Are you considering hosting a bachelorette party in Key West?
A tour we think you'll love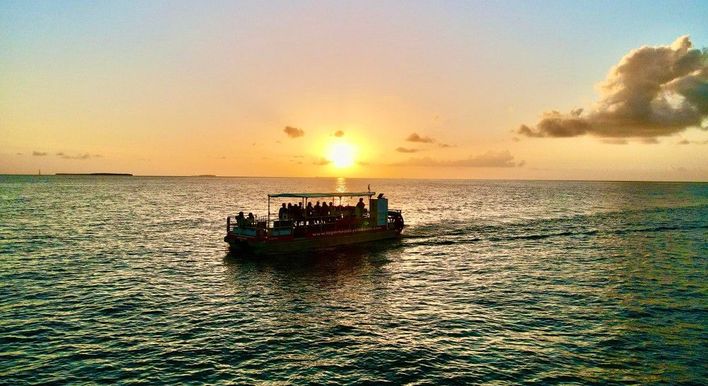 Public Sunset Cruise
From TBD
View tour
When bidding farewell to the single life, there's no better place to celebrate than sunny Key West. In addition to the gorgeous weather, you and your best girlfriends can look forward to an unforgettable trip with incredible food and drink, glorious beaches and top-notch nightlife.
Stepping into Key West, you're soon to forget that you're still in the United States. Instead, you'll feel as though you've been transported to a tropical island far from home. At the end of the day, what more could you want for a weekend worthy of celebration?
If you've been tempted to book a flight to The Sunshine State, you've come to the right place. We're highlighting all the best reasons to go ahead and book your bachelorette party in Key West for once and for all! It's safe to say this is a bachelorette party you'll never forget!
1. Widely Accessible
First things first, Key West is a widely accessible destination.
In efforts to accommodate a large bachelorette group, you want to choose a destination that's easy for all parties to tavel to. While jumping across the globe is undeniably exciting, this isn't always the most cost-effective means for all. With Key West, there's no need to get your passport out or travel across the globe.
From Miami, Key West is less than a four-hour car ride. If you're looking to make a road trip out of it, driving from Miami to Key West is a scenic and exhilerating road trip. With this, you can look forward to upscale accommodation and plenty of bars and restaurants as you stop along the other Keys on the way.
2. Perfect Weather
Have you been daydreaming of tropical weather and white-sand beaches?
As it turns out, there's no need to get out your passport and book a trip to The Carribean. In booking a trip to Key West, you can benefit from endless warmth and sunshine without having to leave the state. This is perfect for large bachelorette groups looking for a simple yet still exciting destination!
With an island like Key West, you can enjoying everything that sunny destinations have to offer. From white-sand beaches and tiki bars to sunset cruises and bikini-friendly restaurants, it's safe to say that Key West has it all.
The good news is that visitors can count on warm weather year-round in Key West. Even the coldest month of January has an average high temperature of 24 degrees celsius. This makes Key West a perfect destination to escape the cold months of winter.
3. Wide Selection of Accommodation
Let's face it, finding the right accommodation options for large groups isn't always a walk in the park.
Fortunately, finding the right accommodation in Key West is incredibly simple and straightforward. Whether it's an upscale hotel or a laid-back and artistic bed and breakfast, it's safe to say that Key West has it all with accommodation options. For large groups or small, this makes finding the perfect accommodation for your bachelorette group a breeze.
You can also consider booking a stay at a local resort. This is perfect for those looking for a simple weekend getaway that involves minimal planning. In staying at a Key West resort, you'll have everything from beaches and attractions to bars and restaurants at your fingertips.
If you're planning a bachelorette party during high season, keep in mind that it's best to book in advance. Because Key West is a small island, the most highly rated accommodation options tend to book in advance. Do yourself and your party a favor and get your accommodation booked as soon as possible!
4. Year Round Festivals
Rain or shine, Key West is always known to be the life of the party.
As it turns out, Key West also happens to be home to some of the most exciting festivals taking place in Florida. These festivals draw thousands of tourists and locals to the island each year. Whether it's the heat of summer or the depths of winter, these festivals know how to up the ante of Key West night life.
For example, Fantasy Fest takes place each October and is famous ten-day celebration in Key West. This celebration combines costumes, street art, booze and dancing to produce one of the most exciting and anticipated festivals of the year. If you're looking to experience a taste of Fantast Fest, be sure to book your bachelorette for October!
5. Unforgettable Night Life
If you're eager for a party, there's no better place to find yourself than in Key West.
Here in Key West, the nightlife is a perfect combination between lively and laidback. Whether it's Monday or Friday, you can count on enjoying a vibrant atmosphere where the drinks are flowing and the breeze is always warm. For bachelorette groups, this is the perfect island for planning an all-night bar crawl and engaging with the local crowds.
When it comes to the sea, there's no better experience than that of a true Key West party boat. Climbing on-board, you can experience a real taste of the island with tourists and locals alike. Not only is this a simple way to experience the views of the island, but it's also a great way to catch a glimpse of the famous sunsets in Key West.
Planning a Bachelorette Party in Key West
Are you debating where to host an unforgettable bachelorette?
In today's day and age, bachelorette parties have proven to be the number one most popular pre-wedding festivity. In toasting to one's marriage, this is a great way to spend time with friends and celebrate the upcoming nupitals. If you're looking for the ultimate pre-wedding celebreation, why not consider hosting your bachelorette party in Key West?
After all, this island is practically made for parties and celebrations. When we pair this celebratory atmosphere with upscale accommodation, seaside adventures and incredible food and drink, it's clear why Key West has become such a go-to hot spot for bachelorette parties.
If you're planning a trip to Key West, be sure to visit our page and see how we can help take your bachelorette to the next level!