Are you sick and tired of going to the same kind of bachelor party over again? Do you want something different for your last hoorah with your buddies? Then we have got just the thing for you.
A tour we think you'll love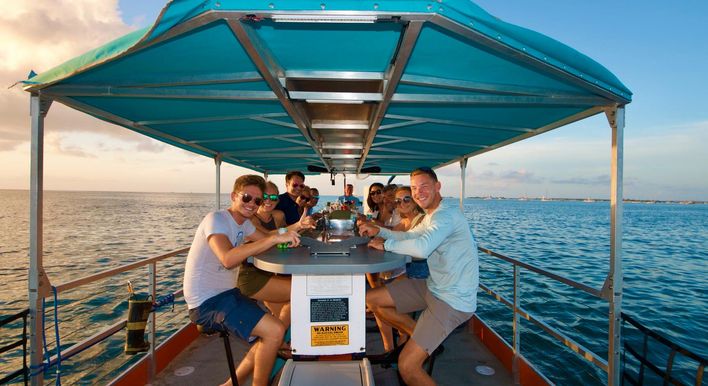 Private Day Cruises
From TBD
View tour
Host your Key West bachelor party on a party boat and get ready for some wild, exciting, and unforgettable times. Read on to see 5 reasons why you should book a Key West boat party asap!
1. Feel like You Are In an Exotic Locale
Let's be honest – all your friends are at different levels finances-wise. Even if you wish you could go to the Bahamas or Cuba for your bachelor party, your friends might not have the funds for it. You still want them at your bachelor party though, right?
That's where a Florida boat party comes in. This way you can all hop aboard a party boat and roam the seas as if you were an explorer from times gone past or as if you were in an exotic locale far away from home.
And it doesn't even take much effort on your part. All you need to do is book the Key West boat party and the crew onboard will take care of all the other details.
2. Take Great Pictures with No Effort at All
Surely you want to keep memories of this epic event in your life forever and ever. But sometimes you are stuck in a club or bar where the lighting isn't great and you end up with shaky pictures in the dark where all you can see are some shiny teeth. Scary, huh?
That's why a boat bachelor party is so great. Not only are you onboard a moving vessel, which means your views change minute by minute. But also you can stand still and watch that beautiful sunset while you munch on some delicious snacks.
You will be wondering then why you didn't do this sooner. Life can't get any better than this!
3. You Don't Have to Worry About Headcount
One of the terrible things about going to a pub, bar, or club for a bachelor party is that you always have to worry about headcount. Some restaurants or bars will not allow big parties to come in without charging extra. Or they might not have room for all your buddies to enjoy a raucous time.
That's why a party boat is so convenient. Key West Party Boats can accommodate up to 26 passengers, which means you don't have to choose between bringing your friend or father. They can all come on the booze cruise or sunset cruise, and enjoy this special time with you.
4. Participate in Activities Galore
You have utter freedom on your Florida boat party to do what you wish with your time. You could drink AND dance the night away while watching the stars and Milky Way and listening to your favorite tunes. Or you could spend time playing fun games.
You could even ask for a personal butler on your special day to take care of all your needs.
The world is your oyster when it comes to these boat parties. You can customize it to your specific desires and wants. Don't hold back and ask your Key West Party Boats consultant to help you create the perfect boat part for you.
You can also look at pictures of previous boat parties to get inspiration and ideas for your once-in-a-lifetime day.
5. Spend Quality Time with Your Friends and Family without Any Worries
You probably don't want to think about or worry about designated drivers and people driving with booze in their system on this day. That's where a boat party comes in.
You don't have to worry about pedaling or driving your own boat when you are on the water. Every party boat comes with its own Captain and First Mate. The Captain will take care of the zooming around, so you don't have to worry about the Coast Guard coming down hard on your rambunctious party.
And the First Mate can also double up as your DJ, which means you can just free yourself and enjoy the final night of freedom before your big day. Hurray for big mercies!
Bonus: Customize Your Key West Bachelor Party as You Desire
The great thing about holding a bachelor (or bachelorette) party on a party boat is that you can customize your experience as you wish. No need to search for other bachelor party ideas.
Do you want decorations to be placed all over the boat? Just ask.
Want special snacks to be served onboard? Just ask.
Want to explore particular spots in Key West? Just ask.
Key West Party Boats will try to ensure this day is as special and customized to your desires as possible. For as long as you are alive, you will always remember this day as something unique and memorable, a bachelor party to outlast and outshine all others out there.
Private parties cost $699 for up to 26 passengers, so it's highly affordable as well!! No more breaking the bank to get all your friends together to have gloriously fun times.
What Are You Waiting For?
Now that you know exactly how Key West Party Boats can make your special day even more so, pick up that phone and contact them to set up your bachelor party today!
Hold your Key West bachelor party with us and we will ensure that you are going to have that unforgettable out-of-this-world experience that you desire before you get shackled (married) to your special someone.
Don't hold back. Contact us today and get started on your own little adventure.