If you're a young woman of a certain age, then you've attended your fair share of sanitized bachelorette parties in predictable venues. If you have to pose with one more elicit lollipop in the private room of your hometown bar, you might give up and join a convent.
A tour we think you'll love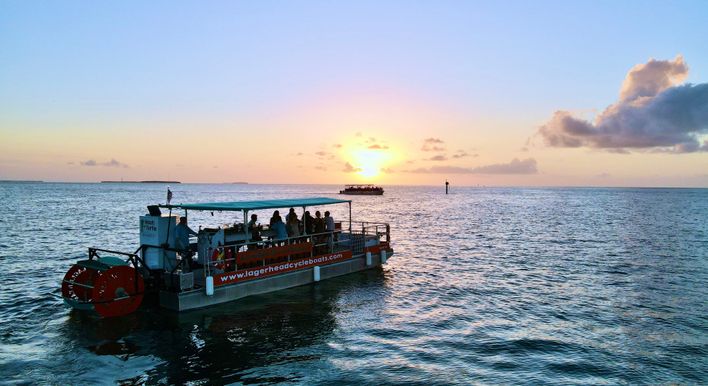 Private Sunset Cruise
From TBD
View tour
If you're planning a bachelorette party, take note: the same old routines are stale, and your Bride-to-be BFF deserves better! Why not do something truly original and plan a Key West bachelorette soiree on board a cycle boat on the Atlantic Ocean?
Your guests will appreciate the break in routine, and your bride will be ecstatic! If you're ready to take the leap into the deep blue sea and plan an unforgettable party, this article is for you. Read on to learn five reasons why a party boat is one of the most innovative bachelorette ideas for the modern bride-to-be!
1. It's Invitation Only!
Your friend the bride is moving on to a more mature and stable period of her life. Do you really think she wants to go bar hopping and rub elbows with a bunch of rowdy men looking to hook up? A great Key West bachelorette party allows you to keep the creepers out and have a great time with an intimate list of invited guests!
Your private party boat will be able to seat up to 26 passengers. That means the bride and up to 25 of her closest girlfriends can take to the open ocean with abandon! You don't need to worry about party crashers, public nuisances, or uninvited guests!
Plus, what happens on the party boat stays on the party boat. If you all do a little drinking and have a truly wild time, nobody needs to know but your guests! You deserve to let loose without fear!
2. You Can Be Loud and Proud!
On a Key West Party Boat, you can be your own DJ. Spotify will always be available, but guests can feel free to plug in their phones and get the party pumping! If you're the one planning a bachelorette party for the bride, you can come ready with a custom playlist!
Plus, out on the beautiful ocean in Key West, you don't need to keep the volume down! Feel free to dance, sing, scream, and talk all night long. There's no need to be self-conscious – the local sea life really doesn't mind a little bit of karaoke between friends!
If you're seeking bachelorette ideas, you can bring along all kinds of favors and costumes to keep things silly. Feel free to dress up or dress down. Either way, dress for the beautiful weather, as you will be in incredible Key West!
3. You Can Get Your Steps In!
Key West Party Boats aren't your traditional Key West Cruise Ships. They are an interactive, physical experience!
Each boat is a pedal powerboat. That means guests at the party will have the opportunity to propel the vessel. They can steer the boat using a set of bicycle-style pedals.
If you worked hard to fit into your dress, "getting your steps in" while you're on the ship might be an appealing proposition! You can steer the party boat with as few as six passengers working together.
If your guests or lazy (or enjoying their drinks), pedaling is always optional. The boat is also engine-powered, so the captain can take over whenever you like! There is plenty of bench seating on the boat, so you can opt-out and hang out whenever you please!
Even if you're not in it for fitness, pedaling the boat is a fun bonding activity that your whole crew can enjoy. Think of it as renting a very large paddleboat and enjoying some time on the water! Most bachelorette party guests say it's one of the more memorable aspects of the party!
4. Who Doesn't Want to See a Dolphin?
If you're looking to stand out with a unique venue, you can't get more clever than hosting the party on the literal Atlantic Ocean! Your roving venue will allow guests to enjoy various views as they travel around Key West to catch the sights. Wouldn't a neon-bright Florida sunset make for a gorgeous backdrop for photos?
Plus, your captain and first mate are professionals who know the water well. The captain piloting your party boat is the same captain who provides boat Key West boat tours. They will be able to steer you toward the best views!
The knowledge of the Atlantic also includes knowledge of the local wildlife. If you ask nicely, your captain might be able to instruct you on where and when to see the local dolphins! Can you imagine anything more magical than a private dolphin show on your own private boat cruise?
5. BYOB!
Every Key West Party Boat will have coolers and ice available. There are even cup holders installed on the central bar to prevent spills on the high seas! All you need to do is provide the drinks and you'll have enough fuel to last you all day or all night long!
What's more relaxing than cracking open the cooler, taking out your favorite beverage, and relaxing with a view of the open ocean? Plus, the BYOB policy means that you are in full control of the tone of your event. If guests are sober or teetotal, you can enjoy a cooler full of your favorite fancy seltzer without a care in the world.
You can curate your drink selections to your specific crew, or everyone can contribute a six-pack to share.
Book Your Key West Bachelorette Party!
Whether you're a fitness nut, a boat lover, or a dolphin fan, a Key West bachelorette party is a unique option for you! Gather the girls, dress to impress, and spend the day on the ocean! When it comes to the party atmosphere, you control the thermostat, so make it the party of your dreams!
Are you ready to set sail and start your married life with panache? Book your party now to begin planning an unforgettable event! We'll take care of inviting the dolphins!