Are you looking for a way to make this birthday more memorable than the rest? Do you have an intimate list of guests that you wish to invite? If so, then you need to throw your birthday party on a boat this year!
A tour we think you'll love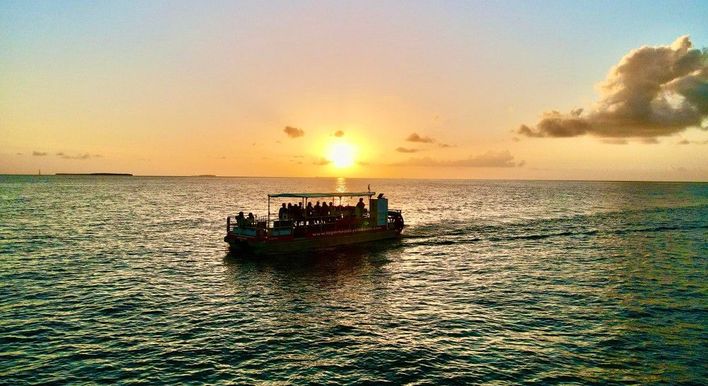 Public Sunset Cruise
From TBD
View tour
Doing so can create an atmosphere that's buzzing from start to finish, gives you hours' worth of fun, and is even worthy of posting a video on "The Gram". Those are just the tip of the iceberg.
See below for an in-depth list of reasons why you should host your birthday party on a boat in Key West this year!
1. A One of a Kind Experience
Perhaps this is a monumental birthday for you year-wise. For example, you might be breaking into a new decade by turning 30, 40, 50, etc. Maybe you're finally turning 21 and want to create a memorable experience to celebrate.
Whatever the case might be, you can enjoy it by planning a Key West Boat Party for you and your friends/loved ones. You can either book a public cruise and enjoy connecting with like-minded partiers or rent out a private tour for you and your posse.
The tour lasts for 2 hours, which gives you plenty of time to connect with everyone, pedal for a bit, share a few drinks, and jam out to your favorite playlist.
Whether you choose to pedal or not pedal is completely up to you. For the entirety of your tour, you'll be able to enjoy the sights and sounds of the beautiful Key West coastline, one of the biggest natural attractions in the world.
Better yet, all our boats are BYOB, so you can ensure that you're drinking your favorite beer, cocktail, or soft drink during the ride. Whether you're booking a trip with all the boys, all the ladies, or your relatives, it's sure to be an experience no one will ever forget.
2. Custom Guest List
We've all had those birthday parties that were crashed by friends or family members you didn't invite. If you host your party at a house or other area with easy access, there's very little you can do to control your guest list.
Then there are those friends of yours that bring their girlfriend/boyfriend of the time, who don't say a word the entire party.
A party boat helps you escape all of the drama and stress of creating a guest list for your birthday party.
If you choose to take part in a public cruise, then you'll pay by person. Simply make your party guest list, they'll pay for their spot on the cruise, then off you go!
If you invest in a private tour, then you can plan for up to 26 passengers, but you aren't required to meet that. The private boat is $899, so however you and your guest list want to divvy up the price is fine with us.
In short, having a birthday party on a boat allows you to invite all of the people you want there, and exclude all the people you don't. That in itself is certain to make your birthday a smash hit!
3. Custom Party for Your Preferences
Sometimes, when you let someone else organize your party, it becomes less about what you wanted, and more about appealing to the masses. That can become quite a chore.
We've found the perfect way to create a birthday party atmosphere that prioritizes the birthday boy or birthday girl, while also allowing others to eat and drink things they like: have everyone bring it themselves!
As we mentioned, our party boats have a BYOB (Bring Your Own Bottle) mentality. We also allow you to bring any food or snacks that you wish. You can fill a cooler full of Jimmy Johns subs for all we care. Whatever you want!
We also don't have restrictions on the alcohol you can bring, meaning you can bring, beer, wine, or liquor to set the mood.
4. Increased Privacy
What's the true meaning behind your birthday party? It's the opportunity to gather with those that mean a lot to you and have a great time.
That sometimes gets thwarted when you book a birthday party in a public space. For example, if you hold a party at a nearby park, there could be families and screaming children that affect the moment. Not to mention that they'll all be looking at your party inquisitively the entire time.
The open ocean is as private as it gets! Organize a Key West birthday party on a boat and enjoy the endless privacy that it offers you and the gang.
5. High-Energy or Low-Key
Maybe you're the type of person that likes to just kick back and sip on a birthday cocktail while admiring the open water. Perhaps you want to blast the music and fist pump until your arms are sore.
Whatever party vibe you're looking for, a Key West party boat can fulfill it. We let you take control of the music, so you can play your favorite playlist and set the mood.
You and your group can take it from there. Our staff has seen it all, so you won't get any judgment from us! Heck, we might join you!
Host Your Birthday Party on a Boat This Year
Now that you have seen an in-depth list of reasons why you should host your birthday party on a boat this year, be sure to find the right party boat for the job!
For more information on that, be sure to read this article on what to consider when choosing a boat tour provider.
For more inquiries, please feel free to reach out to us via our contact us page and we will be happy to assist you further.