Are you looking for the best way to add some excitement to your next company party? If so, we know just the right way to add a little spice to your event.
A tour we think you'll love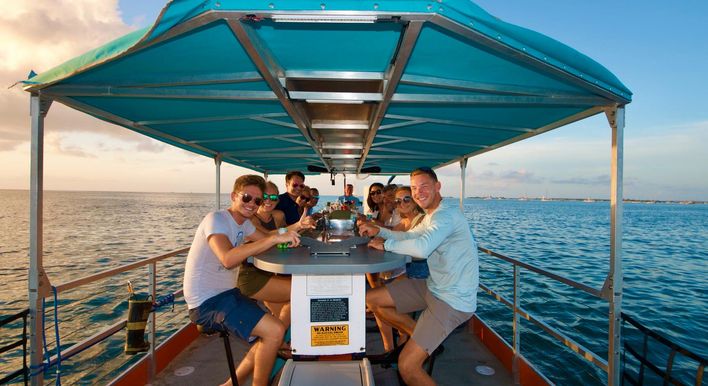 Public Day Cruises
From TBD
View tour
By hosting it on a boat, of course!
Company boat parties are one of the best ways to enjoy the time with your team. You'll find there are many benefits to setting sail and spending the night on the water with your coworkers.
Be sure to keep reading for our guide on the five reasons why your next company party should be on a boat.
1. Impressive Views
One of the number one reasons to host your next corporate party on a boat is for the impressive views everyone will get to experience. When you're out on the water, you will get to see plenty of miles of blue waves and sunshine. You might even be able to catch a magnificent sunset if you board your boat at the right time.
We all know that Key West has some beautiful sites to see. That's why it is better to spend your company party on a boat instead of cooped up inside somewhere.
Plus, you'll get to experience all the fresh air from being out on the open water. The Florida sunshine mixed with fresh air is a great way to spend a party with your team. Adding in the gorgeous views will make it a night that no one will ever forget.
2. Bring Your Own Food and Drink
Another benefit of hosting a boat party for the office is that you can bring your own food and drink. That means you're not limited to a specific catering menu and can choose any types of food your team enjoys.
Many people even choose to do a potluck-style boat party. That way, everyone can bring a dish to pass, and there will be plenty to go around for the entire party. There are so many different boat party food recipes and options to choose from as well.
If you want to let your team relax for the evening and decide to treat them instead, you can always go down the catering route as well. Be sure to arrange catering options for your boat party beforehand. You can talk with the boat rental company and see the best way to go about getting food onto the boat for the evening.
Don't forget about the drinks! If you're having a night out with coworkers, you might want to invest in alcoholic beverages.
Many boat rental companies allow you to bring your own alcohol. You might even find that there is an open bar on some boats. Be sure to decide on your beverage options before heading to the boat for the evening as well.
3. Ample Space
When hosting an office party, something you'll want to consider is the amount of space you will need to have for your guests. Sometimes you can be limited when trying to plan a party in a specific venue that only holds a certain amount of people. Yet, when it comes to a company party on a boat, you will be able to plan for ample space.
Once you've finalized the guest list and know exactly how many people are going to be attending your corporate boat party, you can make arrangements for your boat rental. There are tons of different options when deciding to rent a party boat that will hold several guests. You'll be able to find the one that suits your needs.
Be sure to check out our private boat tours if you're looking to host a corporate party with up to 26 guests. You'll find that there is no minimum for the number of people needed for a private boat rental. That means you can have an intimate corporate boat party or invite more members of your team.
4. A Crew for You
Are you worried because you've never sailed a boat before? Don't fret! A party boat rental comes with your own captain and first mate.
They're there to handle all the details of getting you out to sea and safely back to shore when you're ready to come home.
If you're thinking about one of our awesome paddleboats but don't want the hassle of pedaling, we have you covered. The boat is controlled with a gas engine. That means you can pedal along or even take a rest while drinking with your friends.
We even have some bench seats along the front of the boat if you're looking to relax and enjoy the open water!
5. Make Memories Together
The number one reason you should host your next corporate event on a boat is that it is an amazing way to make memories with your team. Most people aren't going to remember the plethora of parties that are thrown in your employee breakroom, yet they will remember an event that took place on the water.
You'll find that there are tons of fun ways to make the night even more memorable than by simply setting sail. You can have a karaoke night, theme night, play trivia, or make it a dance party. Be sure to come up with an awesome theme for your boat party that everyone is going to love.
Corporate boat events can even be a fun way to incorporate team-building with your employees. The best part is that you will all be together on a boat for a few hours which is going to guarantee a few smiles and dozens of laughs.
Your Next Company Party on a Boat
The next time you're wondering where to host your company party, you should consider renting a boat. Especially if you're looking to host a memorable and legendary party for your team, a boat party is the best place to be for your next event.
Are you wondering how you can get started with booking a party boat in Key West? If so, we have you covered!
Be sure to contact us today with any questions you might have about hosting your event. You can also get started with your booking right on our website.