Last summer, Key West broke records as thousands of tourists showed up to enjoy the fine beaches and incredible nightlife, proving that Key West is just as fun in the summertime as it is in the winter.
A tour we think you'll love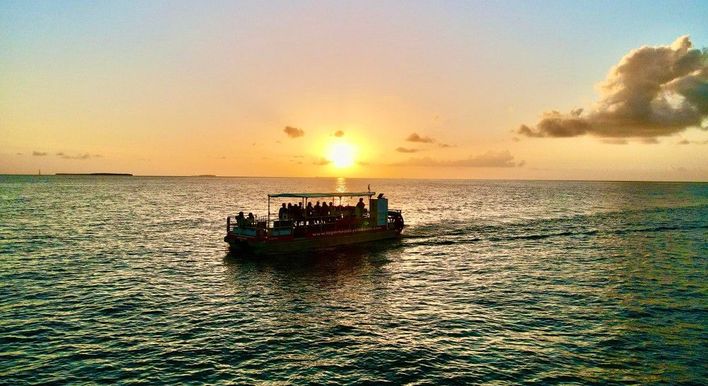 Public Sunset Cruise
From TBD
View tour
Key West is the perfect place to visit when you want to celebrate something big. Why not go all out and plan the perfect boat party for your big day?
Renting a boat is always a great idea. Renting a boat for your birthday party is pure genius.
Still on the fence? Read on for seven unbeatable reasons that you should plan a boat party for your next birthday.
1. Get a Party Venue All to Yourself
So you don't want to have a party at home this year, but you also don't want to share your space with patrons you don't know. What can you do?
The best part about taking advantage of our birthday party package is that you get the boat to yourself. Don't worry about having your celebrations spoiled by party crashers when you're out at sea with friends and friends, only!
2. Ring in Your Birthday With Beautiful Sights
Nothing makes you think about what matters in life quite like having another birthday. For many of us, it's hard to deny that spending time in nature is one of the best feelings on Earth. Why not ring in your birthday surrounded by the most beautiful natural sights Key West has to offer?
When you book with us, we'll take you out into the vast blue ocean in the afternoon so that you can get a chance at seeing everything from seabirds to dolphins and more. Then, we'll keep on sailing as the sun sets for the most unforgettable views you'll ever encounter.
3. Bring Up to 25 of Your Favorite People
You might be thinking, "A birthday on a boat? Won't that limit my guest list?"
We're happy to tell you that we're not taking anyone out in a dinghy. No, we've got spacious pontoon boats that can hold up to 26 passengers at a time. That means that you can come on board with 25 of your favorite people–and leave everyone else on shore!
4. Get Groovy With Our Boat-Ready DJ
Why is Key West Party Boats a fan favorite with new and returning Key West visitors? Truth be told, there are tons of reasons, but one of them is that our party packages come with a DJ!
That's right, you can enjoy tunes spun by a live DJ without paying extra or working with additional contractors. Make requests or let the music master mix some jams and get groovy with our boat-ready DJ!
5. Break Out a Theme With the Decor of Your Choosing
It's hard to top the perks of planning a boat party to celebrate your birthday. As we mentioned already, you're going to be facing some breathtaking and unforgettable views.
But what if you're looking to take your party to the next level? One way to make your birthday all the more interactive and joyful is to pick a great birthday party theme–and no, themes aren't just for kids!
When you book a Key West Party Boat for your birthday party, we invite you to bring any decor that floats your boat. If it fits on the boat, it's cool with us. Your captain and mate may even join in on the themed fun!
6. Keep Those Drinks Chilly No Matter the Weather
Imagine it: you're in Key West with 25 friends, you're out at sea, the weather is great, and you've got great tunes and a great theme. What's the only thing that's missing from this picture? You guessed it: a nice, cool drink.
What are our rules regarding drinks on the boat? As long as you're 21, you're free to enjoy what you like, whether that's a Diet Coke or a rum and Coke. Better still is that as of right now, we operate on a complete BYOB basis.
Why is this good news for you? Some companies love to upcharge for even the most basic beers. With us, bring what you've got and we'll supply the cooler and the ice to make sure that your drinks stay frosty under that warm Key West sun.
7. Enjoy the Seaworthy Expertise of Your Very Own Captain
Worried about picking a designated boat driver? With us, you don't have to.
All of our private tours set sail with their own captain and first mate. With a crew of two, you're in good hands on the safety front. Plus, our captains and mates all know a ton about Key West and you can feel free to ask them about everything from wildlife to landmarks to great places to eat.
The best part about having your own captain? When your guests get tired of pedaling away at the bar, your captain can turn on the engine and get things moving, for you.
What Are You Waiting For? Plan Your Key West Boat Party Today
Key West is a great place to visit all year round and if you haven't been yet, it's time to come see us. With our help, you can take your DIY event planning skills to a whole new level and celebrate your birthday in style with a stellar boat party.
So, are you in? Poke around our website for more information or dive right in and smash that orange "Book Now" button! We'll get you started with our available dates and prices so that you can say, "Ahoy to a new birthday!" right away.