We know you're flirting with the idea of booking your next event on a party boat, so why the hesitation? There's just something about holding a regular old event on a party boat that makes ever more so spectacular and better yet, memorable. Whether it be a birthday, anniversary, random get to together, or simply a moment of spontaneity, party boats have a way of making things fantastical!
A tour we think you'll love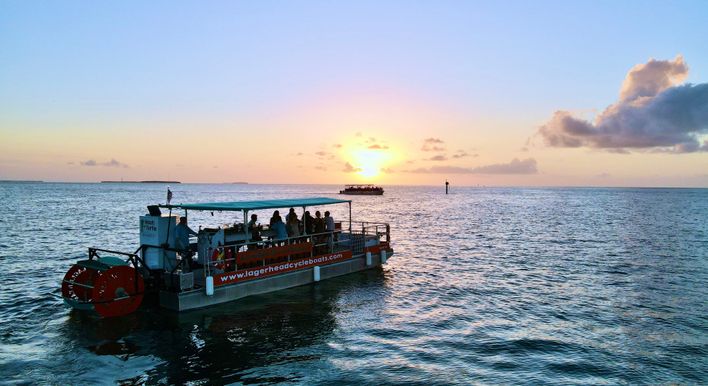 Private Sunset Cruise
From TBD
View tour
But if you're unsure or have any reservations, no worries, we're here to dispel them. Here are 7 reasons why you absolutely have to celebrate on a party boat.
1. Oceananic Privacy
There's nothing like the privacy you find while being out on a boat on the ocean. This is the exclusivity found when booking a party boat. No random pop-ins or potential hiccups from the uninvited.
2. Unique & Hassle-Free
Party boats are a lot more hassle free than you may think. All you need to do is book the boat and companies handle the rest from there (unless, of course, you book a BYOB)!
3. Versatile, Perfect For Any Event
Party boats are incredibly versatile making them an ideal setting for any event. Whether you have an upcoming birthday, graduation, corporate events, or launch party, party boats are great for any of these occasions.
4. Memorability
Not only are they versatile and perfect for just about any event, party boats to provide experiences that are memorable, never to be forgotten. This could be wonderful from a marketing standpoint, or simply to ensure an important milestone can be cemented for years to come.
5. Absolute, Guaranteed Fun
The obvious here, party boats are synonymous with fun! How can you not have an amazing time oceanside, on a boat, jumping off into the ocean with your friends and family, drink in hand, having the time of your life?! Party boats are absolute fun, guaranteed.
6. Gorgeous Views & Experience
Another obvious, party boats put you front and center to the beauty the ocean has to offer. You'll be right in the middle of the sublime, soaking in the sun, views, and taking in an amazing experience with your friends and family.
7. A lot More Affordable Than You Think
And yes, whoever said party boats had to be expensive? If you do your research, you'll be surprised at just how affordable party boats happen to be! Also, in factoring in the additional expenses that come with traditional event venues, you possible could save money when booking a party boat.
Book Party Boats In Key West
Oh there you have it, our 7 reasons why you absolutely have to book a party boat for your next event! Party boats are wonderful experiences like no other and your friends and family will thank you for this unique "venue".
If you happen to be in or near Key West or you're planning on spending your next vacation on the island, Key West Party Boats is where you'll find your beloved boat for your upcoming event.
We have many different experiences to choose from so contact us today and we'll help you get your party boat booked in no time!