Do you have a south Florida vacation coming up? Don't miss out on the gorgeous scenery and island vibes of Key West. You could spend a lifetime in Key West, soaking up the sun, exploring shops, laying on beaches, and enjoying delicious cuisine. As one of the party hubs of Florida, Key West has everything you could ask for from an island getaway. One of the best things to do here is rent a Key West party boat.
A tour we think you'll love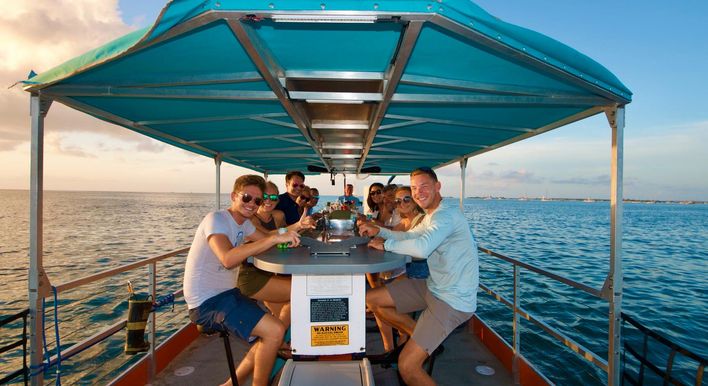 Public Day Cruises
From TBD
View tour
Today, we're going to discuss some of the many reasons why you'll want a party boat
and what types of amazing activities you can get up to when you've got one.
Whether you're looking for a bachelorette party activity or you just want to go on a good old-fashioned booze cruise with some friends, keep reading, and you'll see that a Key West party boat has all the answers.
1. Relax On The Water
What's more relaxing than getting out on the open ocean, soaking up the sun, and having a few drinks?
Whether you choose a private boat tour or buy a couple of single seats, a boat cruise around the Keys lets you kick back and take in the scenery. With our boats, you'll have the option to pedal, but we've got an engine if you aren't feeling it.
It's impossible to understate the positive effect cruising around the Keys can have on your mental health. If you're looking to turn off your mind and just have a bit of fun on the water, this is the way to do it.
2. A Personal Tour Of The Keys
If you opt for the private tour option, you'll get to decide where you go and when you go. Take a few of your closest pals, stock up on your favorite drinks and snacks, then our captain will take you wherever you want to go.
There's a wide variety of marine life to see around Key West. On any given trip, you could spot dolphins, manatees, and jellyfish.
At Key West Party Boats, we care more than most about our local wildlife, so we donate to the Sea Turtle Conservancy. You might even be able to see our sponsored sea turtle (Ariel) on your boat trip.
3. Meeting New People
You may just want to hop on a boat and pedal away with some strangers. Our single seats are affordable and let you meet new people that have the same interest in boating, wildlife, and island scenery as you do.
We've seen complete strangers hit it off like you wouldn't believe on our pedal boats. There's something about the otherworldly experience of being out on the water around the Keys that brings people together. It's a scenery that has to be seen to be believed and our passengers are linked by these common experiences.
Breaking the ice isn't an issue when you're enjoying some fun tunes, knocking back a couple of drinks, and watching a dolphin swim by. You never know, you could meet a great new friend on your Key West party boat.
4. Perfect For Bachelor And Bachelorette Parties
If you're looking for something unforgettable to do for your bachelor or bachelorette party, then the Key West party boat is a perfect option. It's always nice to let loose with those closest to you before you tie the knot and there's hardly a better place to do it than off the coast of a beautiful island.
Key West offers a lot in the way of nightlife, from the smallest waterside taverns to nightclubs. Before you dance the night away, get started with some drinks and music on your bachelor boat tour. You'll be surprised what two hours of drinking on a boat can do for your party vibes.
5. Celebrate Your Birthday
Do you have a birthday coming up and you want to take it to another level? It can be hard to think of new and exciting ways to celebrate each passing birthday. Getting a few friends or family members to take you down to the Florida Keys is a good start, so why not take the plunge and hire a boat cruise?
All of our private boat tours are two hours, but if you want a bit more time on the water for your birthday, just arrange it with us ahead of time. There's no reason to stop the boat party if you don't want to.
6. An Unforgettable Sunset
It's hard to describe how beautiful the sunset is over the ocean when you're off the coast of Key West. Going on a sunset cruise on your own private party boat gives you a rare opportunity to see something you'll never forget.
You'll want to bring your camera or smartphone along for the ride so you can get pictures of the awesome sunset, as well as the wildlife and nature. There aren't many better places to get a great shot for Instagram than on a private boat off the Florida Keys.
7. Don't Need A DD
Party boat rentals are fun for everyone. You don't have to worry about anyone staying sober on this boat because our captain and crew member do all of the heavy lifting. If you just want to have some drinks in peace, that's what you'll be able to do.
The great thing about Key West is that it's small and easy to get around. When you're done with your booze cruise, you can head back to your hotel, for dinner, or hit the clubs without much effort. There are taxis, scooters, and bicycles for hire, but most places are actually walkable.
Book Your Key West Party Boat Today
Now that you know why booking a Key West party boat is a great idea, it's time to do it. You can learn more about us and check out our cycleboat here. When you're ready, just go to our site and look at our calendar to figure out the best date for your Key West party boat tour.