Summer is here, and summertime is party time! And, what better what to celebrate the season than by throwing a summer boat party?
A tour we think you'll love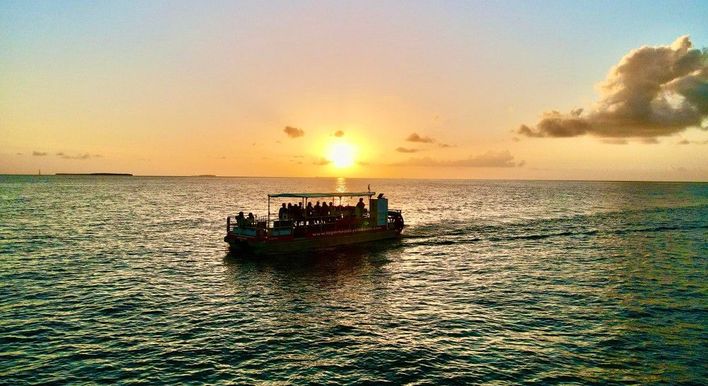 Public Sunset Cruise
From TBD
View tour
Parties on boats can be a great way to wind down and enjoy an evening with your friends. However, they can also take some careful planning to make sure that you throw a truly memorable event.
With the summer season just around the corner, it's time to get started planning your party. If you're getting ready for a summer event, check out these seven tips for throwing the best parties on boats.
1. Work With the Best Summer Boat Party Providers
The first step to planning your party is to get the perfect boat. And, in order to choose a boat that will work for your party, you'll need to know roughly how many people you want to invite.
While a small yacht might be appropriate for 6 or 7 people, it certainly won't work for a crowd of 30. Knowing how many people you want to invite right off the bat will help you choose the best boat.
If you're not sure what size boat would work best, many boat tour providers will help you select the right boat.
2. Pick a Party Theme
There are plenty of occasions for boat parties, but choosing a fun party theme to celebrate can help take your party to the next level.
You'll want to think about the crowd you're inviting as well as the occasion you're celebrating.
Planning a baby shower? Pick a cute Little Mermaid theme! Organizing a wedding reception? Opt for a black-tie formal!
Whatever type of party you're planning, there are many different options for coming up with creative themes that will get your guests excited about your event.
3. Organize Your Food and Drink Selections
Let's be honest. When you go to a party, one of the most memorable parts of the event is what food and drinks your host provided.
A party on a boat is no different! You'll want to make sure that you select food and drinks that your guests can get excited about.
You'll want to plan the type of food you serve around the length of the party. For example, if you expect to be on the boat for several hours you'll want more than light hor d'oeuvres.
It's always fun to offer an open bar on your trip, but it's not necessary. You can select drinks that keep everyone satisfied and that can cater to groups with children by choosing to serve juices and sodas rather than cocktails.
4. Pick Your Playlist
It's not a party without music. At least, not to us.
Part of what helps make your summer boat party a success is finding music that gets your guests excited and keeps the party going.
Once again, you'll want to think about the type of party that you're throwing and the atmosphere that you're trying to create. For a summer fiesta where you're planning to let loose and get wild, pop hits might be a good choice.
On the contrary, if you're planning to host a wedding reception you might find calm classical music is better suited to your shindig.
You may also want to think about music that can signal to your guests that the evening is winding down and that it's time to start heading home. Doing so can help make it a smooth transition from party mode to lights-out mode.
5. Plan Your Lighting and Decorations
One thing that's important to keep in mind when planning a boat party is that you're going to have limited space.
Unlike a large concert hall or community center, a boat only offers so much room. While large decorations might seem fun, you need to make sure that your guests have space to mingle and move about.
Thinking about the size of your boat and the number of guests you're inviting can help you plan for appropriate decorations. You'll want to make sure what you choose to decorate with works in your space without getting in people's way.
Another thing to keep in mind is that whatever you plan on having on the boat will need to be fairly sturdy.
While it's unlikely that you'll hit harsh weather, waves, and ocean spray area. reality. Try to avoid decorations or lighting that may get damaged by water.
6. Plan Entertainment and Activities
One way to really get a rocking party going is to make sure you plan fun activities and entertainment for your guests.
This can mean having party games, bringing in live entertainment, or setting aside part of the boat to use as a dance floor.
Whatever you decide, matching your activities to the theme of the party can help add to the fun. It can also help get guests to engage with each other and with the party's purpose.
Remember, as you plan what type of entertainment or activities to have onboard the boat you'll want to keep the length of the trip and boat size in mind.
Being aware of these factors will help you plan entertainment that not only fits the vibe but is also practical and fun for everyone.
7. Come Up With a Safety Plan
While you're probably more focused on having fun than preventing an emergency, having a safety plan in place ensures that you can keep the party going all night long.
Before you set sail for your event, you'll want to make sure that you've got lifejackets and other safety measures in place.
You never know what can happen on the boat, so be sure to bring enough first aid supplies and water that you can take care of your guests in an emergency.
After all, it's all fun and games until somebody gets hurt.
Plan the Perfect Summer Boat Party
Are you ready to kick off the summer season in style? With these 7 simple tips, you'll soon be able to throw a raging summer boat party that sticks in your friends' memories all season long.
Our guide helps make sure that you're able to plan the perfect summer boat party for your guests. You'll love the magic that unfolds as you treat them to a day (or night) on the water!
If you're ready to get the planning started, give the team at Key West Party Boats a call. We'll help you plan a night to remember!