Did you know that Key West is only 4 miles long and 1.5 miles wide, or that it also lies at the southernmost point of the continental US?
A tour we think you'll love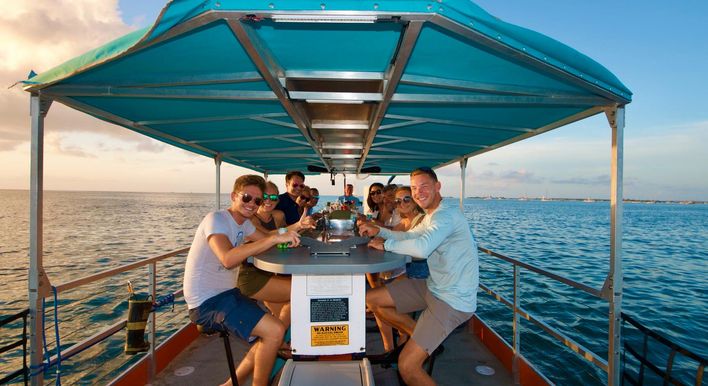 Public Day Cruises
From TBD
View tour
Although Key West is small, there is an abundance of activities to do and attractions to see.
If you are planning a Florida vacation and want to make the most of it, consider some unique options in the Keys.
Continue reading to discover the best things to do in Key West, Florida with your friends and family!
1. Nature Conservatory
If you love birds and butterflies, then you will need to visit the Nature Conservatory.
The Nature Conservatory is one of the best things to do in Key West because it transports you to an entirely different world. As you walk into the conservatory you will start absorbing information about these little flyers. There are 50-60 species of butterflies in the attraction and more than 20 species of birds.
Don't forget to stop by the learning center to absorb even more information. You and your family can discover the life cycles, anatomy, and migratory patterns of butterflies. There is also an art gallery that you can check out between looking at the birds and butterflies.
2. Harry Truman's House
One of the most unique things to do in Florida is visiting Harry Truman's white house.
Harry Truman was a respectable president with a beautiful home that you can now tour.
Although Truman primarily lived in the White House, he still wanted an escape from the cold in the Keys. This was such a great escape that other presidents joined in on the fun and stayed as well.
If you want to tour the house, expect to pay $20 for each adult and $10 for children. This is a great way to bring your love of history and Key West together.
3. Duval Street
If you want to make the most of your Key West party or vacation, you should consider checking out Duval Street.
Duval Street is one of the most popular Key West attractions. There are plenty of stores and restaurants to check out on the strip. You will get local food with beautiful views while sipping on your beverage. This street is lined with palm trees and gorgeous buildings.
Don't forget to stop and listen to the live music with performers down the street. There are also street performers in the area that you might be able to see!
This is a great area if you want to head to the bars and grab some drinks. Meet up with friends on Duval Street and know that you are central to the best places.
4. Throw a Boat Party
For those that love the water and a reason to party, consider renting a boat for a celebration!
Take a look at our calendar and booking information to start planning your getaway now. You can enjoy the sunset on the boat with your family or party the night away with a crowd that is 21 and up.
5. Ernest Hemingway's Home
Another way to bring history to vacation is by visiting Ernest Hemingway's home.
This home is located near Duval Street, so you can quickly walk through between shopping and meals. This beautiful home will dive you into history. Hemingway moved into the home in the 1930s and stayed there until he died.
The luxurious gardens and land will take your breath away. They even have cats roaming around the property! These cats are also a part of history because they are descendants of cats that lived while Hemingway was alive.
The art and history in the home are all that will be seen. You will feel like you are far from Duval Street.
6. Dry Tortugas
If you are looking for the ultimate Key West destination that is unique, the Dry Tortugas is the place to visit.
Dry Tortugas can be accessed by our boats and is 70 miles off the coast. It is a unique island that might be difficult to get to but is completely worth it. The colonial architecture will transport you to another time and the beauty is endless.
There is a beautiful beach that you can go to for cooling off. You can also learn how to snorkel at this destination! Fort Jefferson is the main attraction at Dry Tortugas.
7. Audubon House
The Audubon House is a tropical garden that will take you back to the 1800s.
This home was from a wealthy family and is as gorgeous as it was when it was first built. The Audubon House was built by Captain John Huling Geiger and has been renovated since then. Tourists recommend stopping here if you enjoy the beauty of home decor and historical pieces.
Don't forget to take in the great outdoors at this house. The gardens are as extravagant as the house and will take your breath away. Breath in the wonderful aromas of the flowers and relax on this tour!
Try These Things to Do in Key West
There are so many things to do in Key West that it can become overwhelming to plan a trip.
If you have already been there once or want to avoid the heavy traffic areas, there are some unique destinations to visit. The Dry Tortugas is a remote island that will take your breath away.
Duval Street is also the perfect stop in your vacation if you want to try good food and go shopping. While on Duval Street, you can even stop by Earnest Hemingway's house for a tour. Taking a boating trip will also be fun during the sunset with your friends.
Be sure to contact us for booking a rental with our boats, we have several options to choose from!