There's no shortage of fun things to do in Key West! After you've spent some time sightseeing and hitting some of the must-do attractions, you'll be ready for a day of relaxation. There's no better way to chill out than to book a Key West Booze Cruise.
A tour we think you'll love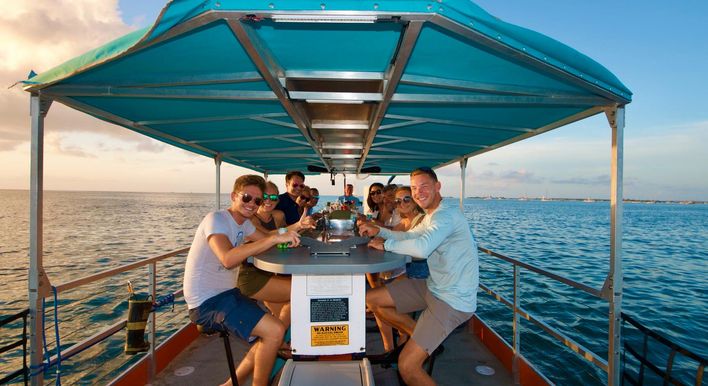 Public Day Cruises
From TBD
View tour
There are plenty of options, but they're not all the same! Want to know how to choose the best key west booze cruise? Take a look at this guide.
1. Consider the Occasion
First, think about what kind of an experience you're looking for. There's a difference between relaxing key west sunset cruises and the atmosphere you'll want at a birthday or bachelorette party.
Some boats can accommodate both! If you're planning a party or celebration, ask about what the boat company can do to accommodate you. The best key west cruises will help you with decorating, ordering food, and more.
2. Public vs. Private
You'll also want to consider whether you want to book the entire boat for a private party or if you would rather mingle with other riders. If you're interested in a private tour, find out how much the cost is for the entire boat and how many people it can accommodate.
Usually, the per-person cost is less if you have enough people to fill the boat. However, if there are only a few of you, then you'll need to weigh the cost per person against the convenience of having the boat all to yourselves.
3. Choose Your Boat
One of the most important decisions you'll make when planning a booze cruise is the type of boat you want. There are many different options ranging from a pontoon to a yacht.
One of the most fun options is a cycleboat. This allows everyone on board to pedal their way around the water. There's only one cycleboat in Key West and it's an experience you won't want to miss!
You'll grab your seat at the bicycle-style pedal stations located around the main bar. It's a ton of fun, but you also don't have to pedal.
The boat also has a gas engine, so it doesn't depend on pedal-power. This way, everybody in your party can work as much – or as little as they want to!
You can rest easy knowing you have a captain who will safely (and soberly) drive the boat.
In addition, the boat will be staffed with people who are intimately familiar with the waterways. They'll know exactly where to go so you can take in all the sights. They also know where to find dolphins and more!
4. Ask About Amenities
When choosing a booze cruise, you'll want to make sure the boat you're considering is large enough for everybody to feel comfortable. It should also havae all the accommodations you need. Some amenities you'll want to look for include:
Comfortable seating
Coolers with ice
Phone charging ports
Bluetooth speakers
Drink holders
The cyclecruise also has adjustable petal resistance. This will allow you to control how difficult you want your ride to be. And, since the boat is also gas-propelled, you and/or your guests can leave the petal stations any time you want so you can relax in other areas of the boat without throwing off the cruise.
5. Is Sight-Seeing Important?
Some Key West booze cruises are focused on taking you to various sights. However, most are more laid back. You'll likely see a beautiful sunset and some marine animals, but it's not necessarily a sight-seeing cruise.
Make sure you know what you're getting into before you book your adventure. This way, there's no chance that you'll feel disappointed.
6. Don't Forget the Booze
Are key west booze cruises fun? Absolutely! And although you can have a good time without alcohol, that sort of defeats the purpose of a "booze cruise."
Each booze cruise adventure works differently. Some charge a higher price and include an all-you-can-drink bar. The problem with these cruises is that your beverage choices will often be quite limited.
If you're okay with super-sweet rum drinks or inexpensive beer, then this might be the perfect option for you. However, if you have a more refined taste, you might want to look for a BYOB booze cruise. These cruises allow you to bring whatever you want to drink, ensuring that you'll enjoy the experience.
This is also often a less expensive option as you're just paying for the boat and amenities. This is also a great solution if some people in the group don't plan to consume a lot of alcohol.
7. Consider the Departure Location
While the factors above are key to deciding how to choose a key west booze cruise, it's also important to think about the departure location. Ideally, you'll want to choose a boat that launches from a central location. This way, you won't have a long trip to get there and can easily get to your next destination when you're done.
When you choose a centrally located cruise, it's also easy to incorporate a delicious dinnerinto your evening plans!
8. Check Reviews
Last, but not least, you'll want to spend some time reading the boat's reviews. The best way to get an idea of what you can expect is to hear from other people who have already experienced it.
Not only will a ton of positive reviews reassure you that you'll have a great time, but if anybody had a problem or suggestions, you can use this information to prepare yourself.
Schedule Your Key West Booze Cruise Today
If you want to enjoy an unforgettable Key West booze cruise, look no further than Key West Party Boats. We're the area's best cycleboat experience and we offer a variety of trips including sunset cruises, birthday, and bachelorette celebrations.
Take a look at our calendar and book your cruise today!