Are you tired of hunkering down and feel you desperately need a vacation? If there's one place where you can get away from it all, it's Key West, Florida!
A tour we think you'll love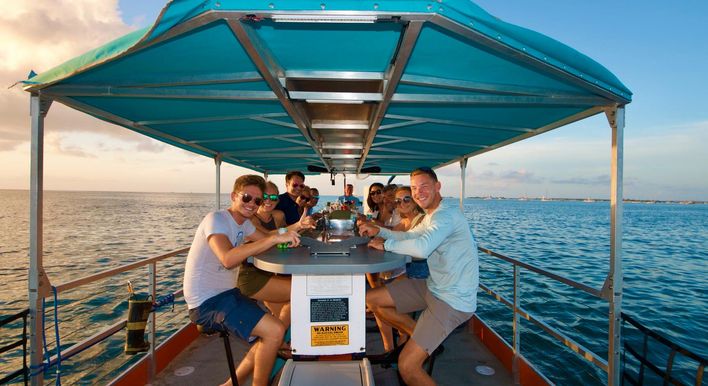 Private Day Cruises
From TBD
View tour
While there are many ways to travel down to Key West, the best way to travel is by boat.
You'll be taking the scenic route and will have a fun time on the way. Whether you want to relax or party, traveling via ferry is the only way you should consider traveling by boat.
So how do you sail to the Southernmost Point? How do you make your travel to Key West as enjoyable as your vacation there?
Here's how to get to Key West by boat:
Try the Key West Express
This is a ferry that travels from Marco Island and Fort Myers Beach. All you would have to do is park your car and board the ferry. The ferry is a large catamaran that can accommodate different tastes.
If you prefer to enjoy the quiet indoors, you can relax on a sofa while you arrive. If you want to mingle and soak up the sun, you can party on the upper deck!
You can also enjoy watching satellite television and enjoying food and drinks on board. You can bring up to two carry-on bags. You can pay a small fee to bring larger luggage.
You have the choice to spend a day in Key West and board the Key West Express later during that day. Or you can spend a few days in Key West and board the ferry at a later date.
Booking the Key West Express
It's always best to book your trip at least eight days in advance. During peak tourism periods, try to book even earlier!
You want to choose which location is easier for you to access. The schedules for Fort Myers Beach and Marco Island might not always be the same. As such, make sure you plan ahead on driving to either location in advance.
Make sure you bring your printed ticket and photo ID when you arrive at the harbor. If you don't arrive on time, the Key West Express will leave without you!
Traveling from Fort Myers Beach and Marco Island
If you decide to travel from Fort Myers Beach, then you can usually expect a daily departure at 8:30 AM. You'll get to start boarding at 7 AM.
The trip back and forth is around 3.5 hours. The Fort Myers Beach location is at 1200 Main St, Fort Myers Beach, FL 33931. There's paid parking options near the terminal.
If you decide to travel from Marco Island, then you'll have to make sure you're in the right season. Marco Island ferries usually are in commute between December through April.
The Key West Express from Marco Island leaves daily at 8 AM with boarding starting at 7 AM.
During the summer months, the ferry has occasional service on Tuesdays and Wednesdays at the same time.
The Marco Island terminal is located at 951 Bald Eagle Drive, Marco Island, FL 34145. There's free parking available at the terminal. The trip back and forth takes about 3 hours.
The return trip is also available on a daily basis. It departs Key West at 6 PM with boarding starting at 4:30 PM. The Key West terminal is at 100 Grinnell Street, Key West, FL 33040.
They can deny passengers if you don't board within 30 minutes of departure time!
What Else to Enjoy on Board
The Key West Express is easily one of the best ferry experiences you'll enjoy. It's a comfortable atmosphere that promises air conditioning, deck chairs, and air-line reclining seats.
It's a comfortable experience where you can rest or mingle. You can enjoy full meals and snacks as well as a plethora of drinks. The ferry is also kid-friendly so it's great for a family trip to Key West.
You can also request special accommodation if you're disabled. There's space to accommodate wheelchairs and electronic movers. You can also request space beforehand to bring a bicycle.
You can also bring household pets on board. You have to make sure you request an accommodation in advance.
For the entire duration of the trip, you have to keep your pets in a cage or crate.
The Key West Boat Experience
What about experiencing boats once you get to Key West? We know that after you get off the Key West Express, you'll look forward to getting back on once your trip ends.
Riding on boats, ferries, and ships is a fun experience and it's one you can experience within Key West itself!
The best boating experience is the Key West Party Boats! These are boats that sail around Key West while offering a fun party experience.
You can enjoy a public boat where you mingle with others. This is great for solo travelers, couples, and groups of friends wanting to meet others.
There's also the option for private boats. If you have a close-knit group this is a great option to have a boat all to yourselves.
These boat experiences are great for many reasons. You can enjoy a private boat tour where you'll sail around Key West and see the different sights. This is a great option if it's your first trip to Key West.
There's also the sunset cruise where you can enjoy a mellow sailing experience. You'll see the sunset and get to appreciate the nature around Key West.
There are also great options for bachelorette parties and birthday parties. There's something for everyone with The Key West Boat Experience and it should be an essential part of your trip down here!
That's How to Get to Key West by Boat
Now that you know How to get to key west by boat, you should book your ferry to Key West today! Whether you choose Fort Myers Beach or Marco Island, you'll love your commute.
Once you get to Key West, you'll also enjoy your trip more if you try a boat experience.
Whether you want a quiet sailing experience or a party experience, this will be an excursion you'll never forget.
We can help you find the perfect boating experience down here in Key West! Check out our tour options and book your trip today!