Did you know that the average guestlist for a party consists of 10 to 30 people?
A tour we think you'll love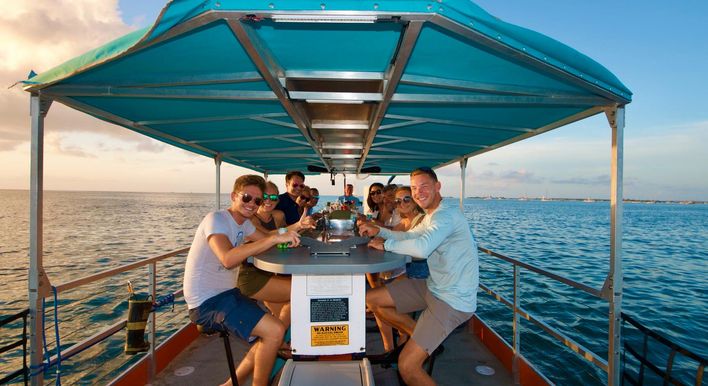 Public Day Cruises
From TBD
View tour
Depending on where you have the party will also decide on the number of people you can invite. If you want to host an event on the open water, you will have to organize a couple of things.
Continue reading to discover all of the steps you need to take for your party boat event!
Consider the Details
The first step in hosting an event on a party boat is to figure out the event's details.
Make sure you have a boat that you can use. This will be the most critical piece of planning because you need it to decide other factors. Most private cruises can hold up to 25 people comfortably, so keep this in mind.
Next, you will need to consider which day that you want the party to occur. Weekends and holidays are best for large groups. If you're going to throw a boat party during the week, make sure you run it by your guests.
Invite Your Guests
Part of event planning is gathering a list of people that you want to invite.
Grab a paper and pen to start drafting your list of desired guests. Since you can only have 25 people or less, you may have to have a more intimate gathering.
After you have decided on your list of guests, it is time to inform them of the big event. Many people recommend using Facebook to create an event invite. You can also call or text people to get a hold of them.
Ensure that you give your guests the details of the day and express the importance of being on time. Late guests mean that the boat will have a late departure.
Rent and Prepare the Boat
If you are in Florida and want to plan a Key West part boat event, contact our company to get your day booked.
Renting a boat is the preferred way to host a party because you don't have to worry about it as much. You will have a designated driver who can focus on the waves while you party with your friends.
Another aspect that you will need to focus on is the theme of the party. Get simple decorations to put up around the boat and match the theme. Avoid getting too intricate with decorating details, as the boat will be exposed to wind and water.
Organize Entertainment
A party is incomplete without fun music and entertainment.
Most people recommend getting a DJ to play at your party so that the beats can go on for the entire night. This will get people up and dancing, enjoying themselves.
It would be best if you considered contacting several DJ options to decide who can accommodate your party. The DJ will have to be included within your boat-person limit for the boat, and they may require extra space for equipment.
Think About Food
Is your party going to last several hours long, to the point that people will need to eat?
If you are hosting a large party, you should consider working with a caterer. A caterer will be able to make meals and appetizers for guests. If you want to bring food on the boat, make sure you have simple dishes that won't leave a lot of mess.
Many people recommend bringing snacks. You should stock pretzels, fresh fruit, and plenty of beverages on the boat before the party. If you aren't supplying food to guests, make sure they come to the event with a full stomach.
Plan a Course
Did you know that more than 5 million visitors go through the Florida Keys in a year?
Key West is one of the ultimate destinations to have a party boat event in. A Key West vacation is incomplete without a nice boat trip with friends. Now is the time to think about where you want the boat to go for your trip.
There are many scenic destinations for your boat to go by in Florida, so make sure you consider this factor. If you are going out with family and want to hop in the water to swim, make sure you discuss this with the captain.
Get Professional Help
If you are getting overwhelmed with party details, it is time to consider getting help from a professional.
By looking at our company reviews, you can decide if it will be the right fit for your event. A professional party company can also assist with planning and organizing. Don't stress yourself over the event. You can even ask friends and family for assistance!
Enjoy the Sunshine
Now that all of the details have worked out, it is time to take off into the water.
The work you have done up to this point will make the rest of the day a breeze. Instead of worrying about guests being comfortable, you can party alongside them without having to drive the boat or play DJ.
Host the Best Party Boat Event This Summer
If you want to host the best party boat event this summer, then you should consider utilizing this guide.
There are many planning steps that you will need to organize in the weeks leading up to your event. First, check the tour company's availability to determine when you can have your party and start planning.
And once the planning is over, don't forget to enjoy yourself on the day of the event with your friends and family.
Check out our calendar and booking information to reserve a spot on our luxurious party boats!