Bachelorette parties have evolved from one evening partying with friends, to luxury getaways with loved ones at wellness spas or holiday resorts…
A tour we think you'll love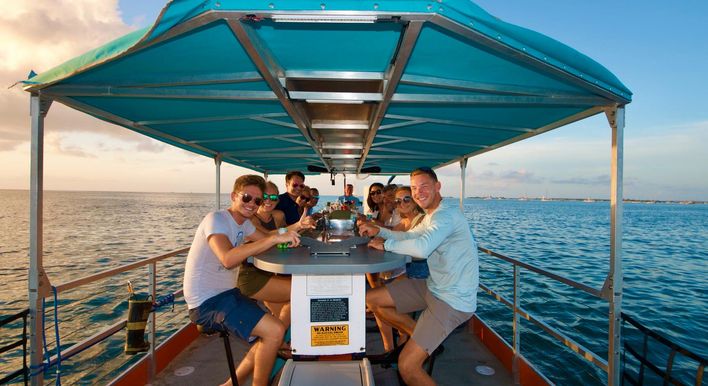 Public Day Cruises
From TBD
View tour
Did you know that 56% of women host bachelorette parties that last two days or more?
Well, it's true! This event is no longer just about a simple celebration. It is about creating an experience of a lifetime that you'll remember for the rest of your life and your loved ones can cherish forever.
A bachelorette boat party is the only way to make your wedding spectacular. Why?
Because, what's better than sun, sea, and time with your close friends and family?
It gives you the perfect time to switch off from the stress of party planning and enjoy this special time in your life.
This article will give you everything you need to know about throwing the best bachelorette party and where to hire a boat for the occasion.
Why You Need to Have a Bachelorette Boat Party
Now, you might be wondering, why should you throw a bachelorette boat party? Is it any different from a traditional venue?
The truth is, nothing beats being out on the open sea and celebrating an exciting new milestone in your life.
1) More Intimacy
Sometimes when you attend an event at a hotel or restaurant there is a buzz of noise, people, and distractions that can take away from the main focus- the bride.
Being on a boat gives you more freedom to celebrate the way you want. There's no pressure and you can completely relax.
Having the space to talk about your fears, anxieties, or reminisce is easier to do when you have an open-air venue like a boat.
2) No Noise Complaints
When you are in a closed venue there are certain limitations when it comes to music and volume levels. Most places will not allow the music to be too loud as it will disrupt other guests…
Therefore, being on a boat gives you the perfect location to blast the speakers and dance the night away with your guests!
3) Bring Your Drinks
The good news is, boat parties allow you to bring your drinks. For example, a key west boat party offers a drink cooler on board so you can have a whole supply of your favorite beverages!
We all know that feeling when you go to a bar and request a drink and they are all out of that variety…
It ruins the evening. But, you don't need to worry about that when you can bring your drinks!
Once you've decided to book a boat party for your bachelorette, you'll need some help with the boat party ideas to make sure that everything goes perfectly.
Boat Party Planning Essentials
Every great bachelorette party has an amazing theme to go along with it. Seeing that your event will be held on a boat, why not make it nautical-themed?
Adding a fun theme will make the day even more special and give your guests a great occasion to dress up and get in involved with your wedding!
Nautical Outfits
Of course, the main outfit for brides is their wedding dress. However, who doesn't love some fun outfits for a bachelorette?
A bachelorette party isn't complete without some matching outfits. Plus, they also act as souvenirs so your guests can take them home with them!
So, what are the best dress accessories and clothes for a boat-themed bachelorette party?
Here is a list of nautical outfit ideas:
Bachelorette tank tops with sailor motifs
Captain bridal hat
Hair accessories with anchors
Beach necklace
Nautical sunglasses
These are just a few examples of outfit suggestions that you can use for your party, you can always come up with your own!
Maybe, a nautical-themed photo booth? Personal seashell souvenirs? You decide!
Boat Party Invitations
The first stage of event planning is always invitations. You want to make sure that you pick an invited with nautical details like a sea view, waves, or sunset photos…
This is the first impression your guests have of your bachelorette party so you want to get them excited right from the beginning!
That being said, you also need to organize your guest list in advance. Every boat has limited seats, normally around 26 passengers can attend a boat party.
If you have a long list, then you might want to consider making it more intimate.
Plan the Ultimate Menu
For boat parties, you want to keep the menu simple and low-maintenance. This will fit into the relaxed atmosphere so a buffet or something similar is ideal.
Food choice is also important as some people may get seasick, especially after alcohol, so keeping the food uncomplicated is the safest option.
Speaking of safety precautions, you'll also want to have plenty of water on board in case people get nauseous or dehydrated…
This will depend on the time of day you hold the party, as in the evening it might not be necessary seeing that there isn't any sunlight.
Prepare the Boat
In addition to outfits, invitations, and menu planning the last thing you need to consider is what you want on the boat. Are there party games you want to plan? Is there an area for photos? And, where will the speaker go?
You'll want to consult with the boat company to ensure everything is in place before your bachelorette party.
Drift Off to Paradise for Your Bachelorette Party
A bachelorette boat party is an amazing way to celebrate this milestone and escape from reality for a moment.
Weddings can be stressful with all the planning, emotions, and overall pressure to make the day perfect. Thankfully, you don't need to worry about the preparation process with Key West Party Boats.
If you're looking for advice, help, and fantastic reviews then you won't have to look any further.
Do you want to experience a cycle boat? Are you ready to sail into the sunset for your bachelorette party? Then, get in touch today to find out more!