If you suffer from motion sickness, then you're not alone. About 65% of people suffer from it. It's more common in women than men but can affect anyone.
Motion sickness happens when there's a disconnect between what your eyes are showing your brain and what your inner ears are sensing (motion). If you're someone who struggles with this, then there's most likely been times when you were unable to enjoy certain events to avoid feeling this way. However, you don't have to let motion sickness hold you back any longer!
A tour we think you'll love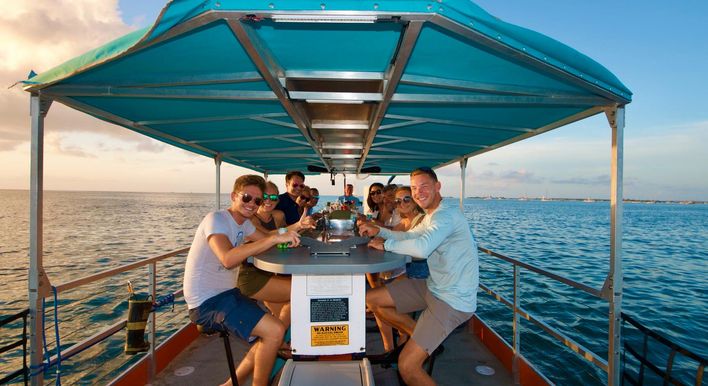 Public Day Cruises
From TBD
View tour
Motion sickness prevention is possible, and we're here to show you how. In the guide below, you'll find several helpful tips on how to prevent motion sickness. Continue reading to learn more!
Motion Sickness Symptoms
Before diving into the best seasickness prevention tips, you should know what some of the symptoms are. If you're out on the water and begin to feel some of these symptoms, then you know it's time to put a few prevention tips into motion. Here are several symptoms of seasickness to be aware of.
nausea
fatigue
rapid breathing/hyperventilating
increased saliva
cold sweat
turning pale
Keep in mind that not everyone experiences the same seasickness symptoms. Motion sickness looks and feels a bit different for everyone. Use these symptoms as a guide to catch and stop your motion sickness before it worsens.
Ensure There's Enough Shade
When you're out on the water, it's often difficult to avoid direct sunlight. You're exposed to it for several hours, which can have consequences. Soaking up the sun is a great way to intake some vitamin D, but you don't want to over-expose yourself.
Packing all the right essentials is beneficial and necessary for an enjoyable experience. Wear protective clothing, don't forget your sunhat, and try to stay in the shade when possible. In some cases, overheating can lead to motion sickness.
Try to find shade right away if you're feeling any of the motion sickness symptoms. Sit down in a nice shaded spot and close your eyes. Hopefully, this helps relieve those symptoms.
Wear Pressure Seasickness Bands
When feeling nauseous, you can apply pressure to the acupressure points that connect to your stomach. These pressure seasickness bands are also referred to as anti-nausea bands. The bands put pressure on your acupressure points to help relieve the motion sickness feeling.
You can find these bands in a variety of options. One great band option is the anti-nausea wristband. The band applies pressure to your wrist, where one of your pressure points for your stomach is located.
Symptoms of nausea and vomiting should quickly subside. If you're out at sea and don't have one of these bands, consider applying pressure manually to any of your stomach pressure points.
Watch What You Put in Your Stomach
If you don't take care of your stomach during the days leading up to your trip at sea and the day of, then you could place yourself at a higher risk of seasickness. Bring a few bland food items with you on the boat. Bagels, crackers, bread, ginger, and peppermint are all ideal.
You want to avoid eating anything that's acidic, spicy, or fatty on the days before the trip. You can also consider bringing a bottle of Coca-Cola along with you as well. Drinking Coca-Cola can also help put your stomach at ease.
Unfortunately, if you're someone who suffers from motion sickness, then you want to avoid drinking alcohol before and during the trip since even a slight hangover won't mix well with seasickness.
Choose an Over-the-Counter Medication
Thankfully, there are many good over-the-counter medications you can take to help prevent motion sickness. It's always best to try to prevent motion sickness from occurring in the first place rather than wait until you're feeling the symptoms to try to treat it. With this in mind, you'll want to take the medication before heading out for the day.
How far in advance you need to take it depends on the type of seasickness medication you purchase. For example, a patch might need to be placed on your skin several hours before the trip, while a pill might need to be taken 30 minutes before.
Go Below Deck and Face Forward
Staying close to the sides of the boat can increase motion sickness symptoms. If you're on a boat where you can go below deck, do so. Otherwise, try to find a place towards the middle of the boat.
These are the areas on the boat where the least amount of motion is felt. You should then sit down and face in the direction the boat is heading. Close your eyes and listen to some music on your phone to take your mind off of how you're feeling.
Keep Yourself Hydrated
Dehydration can worsen your motion sickness symptoms. It's best to stay hydrated by drinking lots of water before and during your trip. Suffering from motion sickness and dehydration while out on the water can lead to a miserable experience.
This is another reason to avoid drinking alcohol if you're someone who suffers from seasickness. Wait until you're onshore to indulge in your favorite alcoholic beverages. In the meantime, focus on water and ginger ale, which can help relax your stomach.
Motion Sickness Prevention Is Possible
Don't let motion sickness stop you from enjoying your next Key West party boat experience! Seasickness is common, and many people suffer from the symptoms, but you don't have to. Use all of the helpful motion sickness prevention tips and tricks listed above to stop it before it happens.
Then, get ready to have fun under the sun by booking your own boat tour or booze cruise. At Key West Party Boats, we invite you on one of our guided boat tours or booze cruises and allow you to sit back, relax, and enjoy the Florida Keys while we handle everything else.
Explore our tour options today to get started!