Did you know that Duval Street in Key West is one of the longest streets in the world, running right from coast to coast? The history of this area has many interesting oddities, from island forts to houses inhabited by six-toed cats. So what are the essential sights to visit in Key West?
A tour we think you'll love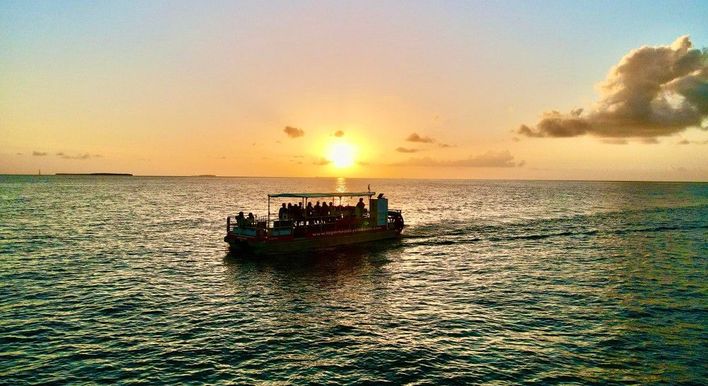 Public Sunset Cruise
From TBD
View tour
For history lovers, the choices can be endless. Read on as we give the ten essential sites you need to visit to understand Key West history.
1. Custom House Key West
This is a must-see Key West historic site, intrinsically linked to its past as a trading area with access to the Caribbean. It was originally the site of the Post Office and District Courts, making it a hub of activity. Built-in 1891, it is a beautiful red brick building in a colonial architectural style.
The house has now been turned into a museum by the Key West Art and Historical Society. You can find it at Mallory Square, close to the Margaritaville Resort and Marina.
2. The San Carlos Institute
Anyone visiting Key West with an interest in the history of Cuba should pay a visit to the San Carlos Institute. In 1892, Jose Marti announced the united front for Cubas's independence from here. It is now a school, art gallery, museum, and theatre amongst other things.
Exhibits include postcard collections, exhibitions on the life of Jose Marti and works about aviation history and Cuban presidents. You will also find events at the theatre, so check the schedule to see what is being performed when you stay in Key West.
3. The Hemingway Home and Museum
This was the home of author Ernest Hemingway and a place where he lived and worked for almost ten years. You can walk the grounds of the house, marveling at its beautiful garden and pool. You will encounter a wide range of flora and fauna in an explosion of tropical colors.
However, more famous than Hemingway himself are the cats of the house. There are around sixty cats with six toes, descended from Hemingway's cat Snow White. All of them follow the writer's penchant for being named after famous celebrities.
4. East Martello Museum
This building was originally erected during the confederate era as a barricade to protect Fort Zachary Taylor. If you are wondering what to do in Key West and want something a little different, this is the place to go. It has a weird and wonderful collection of pieces sure to amaze.
Robert the Doll is the most famous exhibit. He is said to have his own soul and you can even schedule a spooky night visit. In addition, you can see found art sculptures and a range of woodcarvings.
5. Key West Historic Seaport
Without the historic port, there would be no Key West travel guide. The area was a very useful stopping point on the journey for ships. It provided access to both the Atlantic, Caribbean, and the southern states of America, along with fantastic fishing.
While the vast fisheries may be somewhat smaller these days, the activity remains the same. You can find shops and entertainment, all with a beautiful ocean view. Some of the best restaurants are situated here, and you can hunt out fantastic cocktail bars to sip the hours away.
6. Key West Cemetary
The Key West Cemetary may sound like a grim proposition, but it is actually an extremely unique experience. Because of the rocky ground, tombs are stacked above the earth building upwards. Some of these dates all the way back to 1800.
Most enjoyable is reading the unique, witty epitaphs. They also have lots of detail about the life of the inhabitants within. For the most comfort, avoid visiting in the scorching afternoon sun.
7. Dry Tortugas National Park
Dry Tortugas is essential viewing for those interested in the natural history and geography of the area. Dry Tortugas are seven islands that skirt the Gulf of Mexico, Caribbean, and Atlantic. It was home to Fort Jefferson, which housed numerous prisoners during the Civil War.
Situated around 70 miles from the coast of Key West, visiting can be a challenge. There is only one ferry to the park and the only other options are private tours.
8. Oldest House Museum
As the name implies, this was the first house built in South Florida. Erected in 1829, the building belonged to a wrecker named Captain Francis Watlington. He lived in the home with his wife and seven daughters.
The museum in the building now houses artifacts that relate to this enterprising era. You can see exhibits salvaged from shipwrecks such as paintings and gold. Its well-tended gardens also offer you a place to sit and view this spectacular building.
9. Harry S Truman Little White House
The Little White House has been a presidential retreat dating all the way back to 1880. However, it was Harry S Truman who really made it his own. Reportedly hating life in Washington, he spent over 175 days of his presidency living in the building.
Much of this was through extremely taxing times, such as the early days of the cold war and the post-war years. The Fifth Civil Rights Executive Order and the Marshall Plan all got discussed here before being put into place.
10. Key West Lighthouse
The lighthouse offers an unparalleled 360-degree view of the city and the ocean. You can access it by climbing the winding 88 steps. Though no longer functioning, the building was used to warn ships away from rocks and guide them to the island.
Inside are a collection of photographs and recordings from former lighthouse keepers. Built-in 1847, glass display cases show the possessions of those who have lived and worked in the building ever since.
Key West History
Now you know these sites intrinsic to the shaping of Key West History, you need to plan your visit. It may not be possible to see all of them in one day or even one trip. Select the most interesting and map out your journey.
For all of your Florida Tours, contact Key West Party Boats. We can give you a historical experience or cater for your party events. Contact us here to discuss your needs and schedule your dream Key West trip.