Boats are having a moment in the US. With over 25 million boats owned for recreational reasons, there's never been a better time to get out on the ocean.
A tour we think you'll love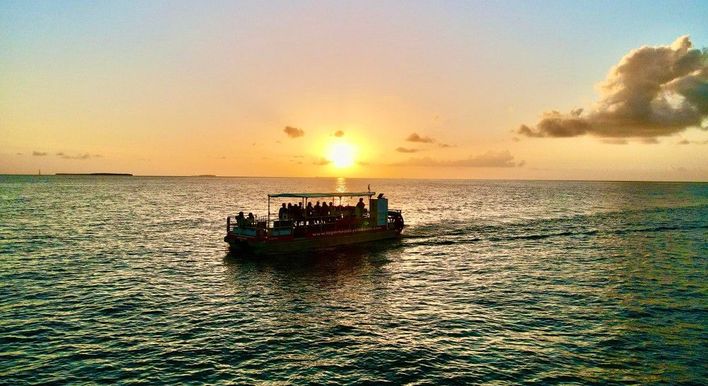 Public Sunset Cruise
From TBD
View tour
Whether you own your boat or want to rent one, partying on a boat is one of the most fun ways to your spend time off.
Cruising along while listening to your favorite tunes, having a few drinks, taking in the stunning surroundings. What better way to celebrate a special occasion?
If you want to party on a boat, you should keep a few safety considerations in mind, so your party runs as smoothly as possible.
Follow these tips for partying on a boat for a safe and unforgettable boat party.
1. Don't Exceed Capacity
Boats have a maximum number for a fundamental reason; there's only a certain weight the boat can hold.
It may seem like fun to bring on more people than you are officially allowed to the boat, but don't do it! The place you hire your boat will be able to advise on the maximum number of people. Stick to it!
2. Have a Designated Driver
When planning a boat party, make sure you know who will drive your boat! Will you have a captain who comes with the boat? Or will someone in your group drive?
To drive a boat, you need a boat license. Check the validity of the license for the person in your group who wants to drive.
The other good thing about having a designated driver is you know that person can be responsible. They won't be able to drink, as drinking and driving a boat is just as bad as drink driving a car.
If everyone in your group wants to enjoy a drink, then hire a captain to come and drive your boat for you. That way, everyone can relax!
3. Wear Sunscreen
A long hot sunny day spent at sea can mean the potential for one thing you don't want- sunburn!
There will probably be a breeze while you're on the boat, so you may not notice the intensity of the sun. When you are fully exposed on the boat all day, there isn't much shade or protection for your skin.
Make sure your group all use sunscreen to protect themselves from a painful burn. If you notice someone getting burnt, get them to cover their skin with a t-shirt.
4. Don't Drink and Swim
It may sound obvious, but jumping in the water for a swim isn't a great move if you have a few drinks.
Alcohol messes with your ability to perceive danger, so if you swim after a few drinks, you may not be able to tell how safe the situation is. With an altered sense of perception, you may think it's safe to swim, when in fact, it isn't!
If you want to ensure booze cruise safety, then leave the swimming to the members of your party who aren't drinking.
5. Bring Enough Provisions
Running out of water on a hot sunny day wouldn't be an ideal situation. Or imagine running out of snacks? That wouldn't make for a fun party, would it?
Ensure you know how many people will be on the boat beforehand and purchase ample provisions for them. Always buy a little more than you think you may need so you don't run out.
Drinking water is the most important thing to buy enough of. Some boats will include ice and water, so check beforehand.
6. Are There Enough Life Jackets?
The ultimate boat party safety tip is to make sure there are enough life jackets for the number of people on the boat.
Do you know the protocol if something were to go wrong? Will you be rescued, are there inflatable dingies?
To ensure you feel prepared, check over all the safety details with your captain before getting out on the water.
7. Can Everyone Swim?
Know your group! Before you go on a boat, know whether or not everyone onboard can swim. If there is someone who can't swim, they may need some extra attention in (the unlikely event) the boat capsizes.
Understanding the capabilities of your group is important for ultimate boat party safety.
8. Carry a First Aid Kit
Going out on your own boat? Take a small first aid kit with you. If you hire a boat, the company should provide this.
A simple first aid kit should include some band-aids, some rehydration tablets, and seasickness tablets.
9. Music for Partying on a Boat
Ok, so this may not be one of the boat party tips for safety, but you shouldn't forget about the music when planning your boat party.
A boat party isn't complete without some great tunes! Make sure someone is bringing a speaker, and you have some playlists prepared and lined up.
The music makes or breaks a party, so be prepared with great playlists if you want your party to be remembered!
Ready to Party?
You now know all about partying on a boat safely. Knowing how to stay safe may seem like a boring element of arranging a party. But if you want your day to run smoothly, you should keep these tips in mind.
If you want to party in style and have all the details taken care of for you, hire a boat from a well-established company. You'll be looked after by the professionals who will take the stress out of organizing the party.
Hire your boat from Key West Party Boats for a fun and unforgettable booze cruise! Check availability here.