Are you planning a trip to Key West soon? We know that you'll enjoy everything once you're down here.
A tour we think you'll love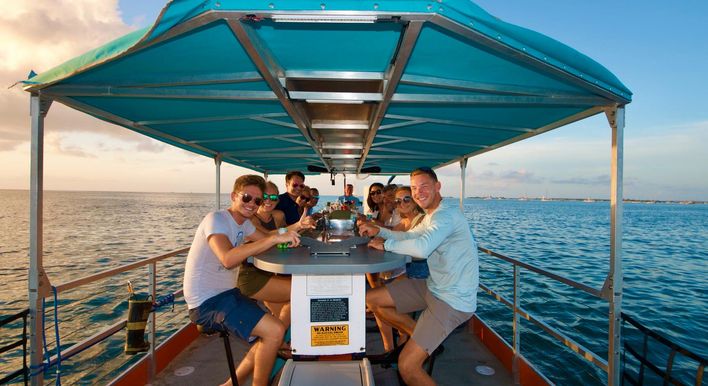 Public Day Cruises
From TBD
View tour
Whether it's the boat tours, a Sloppy Joe sandwich, relaxing on the beach, or seeing our museums.
Oh, and you'll also love bar hopping and enjoying the best Key West drinks.
Key West is known for its assortment of different cocktails. These cocktails are the town's best-kept secret but are just as memorable as our Southernmost Point landmark.
Here's what you should try when you're down here:
1. The Hurricane Rum
Tropical islands, especially in the Caribbean, are known for their delicious rum. Key West has brought this vibe to South Florida.
Here you'll find every combination of rum imaginable. You can try a basic rum and coke if you want to keep it simple. Or you can try a rum with different mixtures of fruit.
If you want a wild night, you want to try the Hurricane Rum. This is a combination of light and dark rum. It's also mixed with vodka and gin! It's also mixed with grapefruit juice and pineapple juice.
There's an additional kick of grenadine syrup, almond liqueur, and triple sec. It's one of the most popular rum drinks down in Key West and one that you'll surely love!
2. Papa Doble
This unique drink is often credited to Ernest Hemingway, whose home you should definitely visit when you're here.
It's got a bit of rum with lime and grapefruit juice. It's also got crushed ice mixed with maraschino liqueur that floats on the top.
An alternative is to have the Papa Doble mixed with whiskey as this was Hemingway's favorite drink.
In fact, if you're going to try a Papa Doble you should also give a Sloppy Joe a try.
Sloppy Joe's is where you can get the best Key West lunch. It's where Hemingway would often dine when he wasn't writing.
3. Dark and Stormy
This is the national drink of the island of Bermuda and is a favorite among sailors.
Those sailors must have visited Key West a few times because it's found popularity down here as well!
It's a simple mix of ginger beer and dark rum. Add half a cup of ice, and you're ready to go!
In fact, if you've got a longer trip in Key West you might want to consider buying the ingredients yourself.
You can make a Dark and Stormy in your hotel room for you and your friends to enjoy!
4. The Rum Runner
This drink was actually made a few miles ahead of Key West in Islamorada. It was invented at the Postcard Inn (then the Holiday Isle Tiki Bar) by John Ebert.
The legend has it that the bar had more rum and liqueur than they could handle!
These items had to get moved to make space for new inventory. To "move" the items, John decided to make a concoction of his own.
He came up with "The Rum Runner" which is a mix of banana liquor, Meyers rum, grenadine, and a bit of brandy.
He named the drink after the notorious rum runners who would smuggle rum in the Florida Keys during the Prohibition era.
Luckily, The Rum Runner found its way down to Key West. If you try a food tour at Key West, you'll be sure to try the drink along with some of the best bites in town.
Otherwise, you can go to the Historic Speakeasy Inn to try the drink. Like the Dark and Stormy, we're sure you'll fall in love with this drink.
If you do, stop by a liquor store to buy the ingredients so you can make it at home.
5. Key Lime
When it comes to food, you've got to try a delicious Key Lime pie at least once before you leave Key West.
But Key Lime has also found its way in some of Key West's best drinks. You should try the Key Lime Margaritas, Martinis, and Key Lime Shooters when you get a chance.
In fact, if you're at a restaurant or bar and have the option to add key lime to a drink you should do it!
The key lime is a staple of Florida and no place does key lime specialties better than Key West.
6. Craft Beer
If there's a place to get a beer belly, it's down in Key West. While you'll find your favorites here, we recommend trying our local craft beers.
You might want to stop by Rams Head Southernmost to try their selection of craft beers. This is also a great place to try various cocktails and to enjoy great meals.
There's also the Waterfront Brewery located in the old town. This is another great place to enjoy craft beer as well as food items.
In only a few years, it's become one of the hotspots for locals and tourists alike.
If you want a great view and a place where you can hang out all night, head on over to Hurricane Hole.
You'll have a view of the harbor and a great sample of craft beers to try.
7. Fine Wines
Are you planning on visiting Key West with your significant other?
If so, you want to enjoy the many fine-dining options that the town offers. At all these restaurants, you can also enjoy fine wines.
Whether you want a Pinot Grigio, Rose, or Cabernet Sauvignon you can find it somewhere in town.
For an upscale experience, head on over to Prime Steakhouse. Enjoy your wines and food in a classy atmosphere.
If you like seafood and want a quieter experience, you can get it at Latitude's Restaurant. You'll also enjoy their selection of fine wines.
You'll Also Get the Best Key West Drinks on a Boat
Now you know about the best Key West drinks and where to enjoy them. But the best place to enjoy these drinks is on a Key West Boat Experience.
We provide boating experiences to make your trip to Key West more enjoyable.
You can enjoy a party boat where you'll meet other tourists and locals. Or you can get a private boat tour for you and your friends.
Celebrating a birthday or bachelorette party? We've got you covered as well. Check out our options for boat tours and we'll see you soon!