What do you see when you imagine the perfect Spring Break trip?
A tour we think you'll love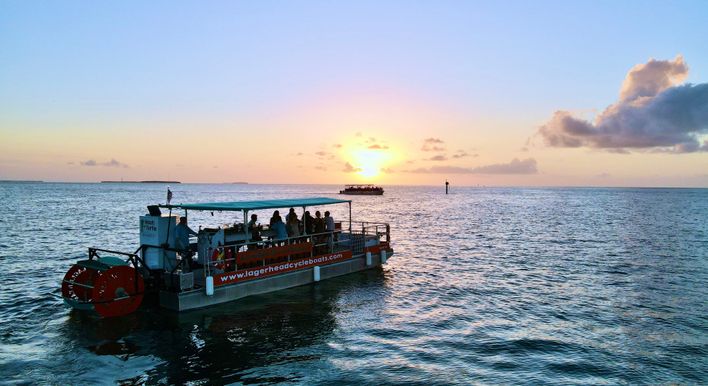 Private Sunset Cruise
From TBD
View tour
Are you picturing beautiful blue waters and warm sandy beaches? Do you think of a fun-filled weekend with friends where the party never ends?
If so, then you'll want to consider making Key West your next Spring Break destination. There are endless ways to make your Key West Spring Break a weekend you won't forget.
The secret to making sure your Key West Spring Break 2022 is epic lies in knowing which activities to plan. Whether you're looking for a party atmosphere or something more relaxed, Key West has activities for everyone.
Take a look at some of these unforgettable experiences you'll want to consider including in your next Key West Spring Break weekend.
Spend the Day at the Beach
A classic Spring Break activity involves some sand, a beach chair, and some sunglasses.
If you're looking for some excitement to go along with your beach day, there are plenty of popular beaches with volleyball nets and other activities for you to enjoy.
The Southern Shore is where you'll find a majority of Key West's smaller, more popular beaches. However, if you want to visit the largest beach in Key West, then head over to Smathers Beach for guaranteed fun in the sun.
At Smathers, you'll find the best swimming around with amenities like showers, shops, and, best of all, free parking!
When it comes to Spring Break rentals in Key West, Smathers has you covered. From kayaks to paddleboards, you'll find the best water toys and activities.
Live Your Best Life on a Party Boat
Hands down, the most fun you'll have in Key West will be on a party boat.
A Key West party boatprovides you with hours of entertainment no matter the occasion. Celebrating a bachelorette party? There's a party boat for that!
If you're looking for a unique party boat experience that's fun for everyone, you'll want to consider booking a cycleboat. While peddling isn't required to get going, it's a fun way to enjoy your day on the water.
Not only is being on a boat the best way to see the beautiful shoreline and crystal blue waters of Key West, but you'll have a crew on hand to ensure you have the most fun possible.
You won't want to miss a Key West sunset on the water. Booking a party boat sunset cruise will ensure magic at every turn.
Go Bar and Restaurant Hopping
The options are limitless when it comes to quality dining and drinking in Key West.
Enjoy a night out on the town by sampling some of the best! Or spend the day exploring some of Key West's most established and well-known bars and restaurants.
Perhaps the first on your list should be Sloppy Joe's, a well-known Key West dining establishment, beloved by tourists and locals alike. It's so good, even Ernest Hemingway liked to frequent it!
Another favorite to add to the list of must-visits is Point5 Lounge. With a wide variety of wine and original cocktails, Point5 is classy and fun with a nightly dance party starting after dinner.
Check out as many of Key West's popular bars and restaurants as you can on your next Spring Break getaway.
Enjoy a Show
There is no shortage of live entertainment on any given night in Key West.
If you enjoy sitting back and relaxing while a live band plays, then you'll want to make time to visit some of Key West's bars known for their live music.
The Green Parrot is a great place to catch a funky vibe while sipping on your favorite cocktail. Some say this is the place to hear the best music in all of Key West.
For a more classic tropical atmosphere, you can head to Willie T's to hear some great bands play and meet numerous other party-goers looking to have a fun time.
Hang Poolside
Beaches have their upsides, but if you consider yourself a bigger fan of hanging by the pool, then you'll find Key West has several options for you to spend your days poolside.
Dante's is where you'll find the ideal Key West party experience. With a full bar, spectacular pool, and music, you'll want to come back day after day for some fun in the sun.
Another popular spot to get the pool party experience is Liquid. Known for its delicious drinks and upscale dipping pool, it's a place you'll want to spend your whole day.
Go On a Snorkeling Adventure
Snorkeling is another fun and exciting way to experience Key West over spring break.
With miles of coral reefs, Key West is home to some of the most spectacular underwater views and marine life.
You'll want to dive deep into the warm blue waters and meet some of the ocean's most intriguing residents.
Snorkeling tours are a great way to spend the day because you get to snorkel, drink, eat, and relax on your own private boat or along with a small group of people.
Attend Seasonal Events
Key West is a town that never stops entertaining. There is always something happening everywhere you turn.
No matter what time of year you decide to visit, there is almost always an event happening.
From 5Ks to speakers to festivals, you'll want to stay up to date on what's happening in town when you book your trip. Many of these events are even free!
Plan the Most Epic Key West Spring Break Weekend
Whether it's a party boat rental or a day lounging on the beach, you'll want to make sure your Key West Spring Break includes some of these one-of-a-kind activities.
Your weekend in Key West can be whatever you make it. Relaxing, party-filled, or somewhere in between.
All you have to do is start planning!
To ensure you have the best time on your next trip to Key West, check out our website to book a fun-filled experience that you and your friends or family will be talking about for years to come.