Over 68,000 tourists arrived at the Key West Airport in May of 2021 to start their summer vacation. But, their next mode of transportation was most likely by boat.
A tour we think you'll love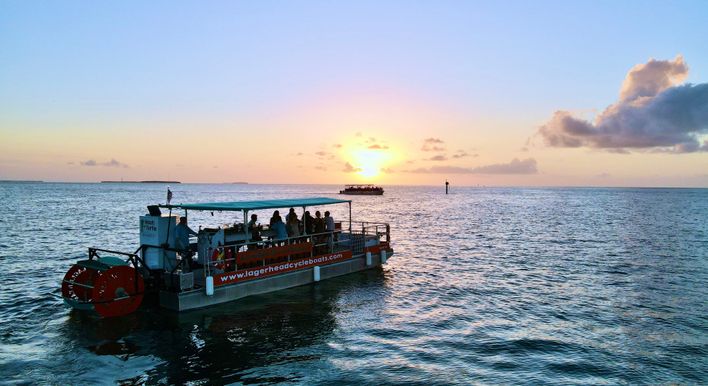 Private Sunset Cruise
From TBD
View tour
That is because if you want to enjoy all that the Florida Keys have to offer, then you need to get out on the water. And the best way is to host or join a boat cruise.
Read on for what to bring to a boat party for optimal relaxation.
1. Bathing Suit
The first item on your packing list should include a bathing suit. This is the only way to enjoy a dip in the warm coastal waters that can reach averages of 87 degrees F in the prime of the summer.
Either pack your favorite suit or wear it under your clothes depending on the theme of the party. The time of day may also play a role in your swimming attire choice to fit the ambiance of the day or evening.
2. Clothing Layers
Regardless of which swimsuit you choose, the weather can determine your clothing at any moment.
Bring along with you some layers for all weather types. For example, include a jacket or sweatshirt for that ocean breeze, a long-sleeve shirt for when the sun goes down, and a tank top or t-shirt for when you want to cover up.
Having several options will make you more comfortable throughout your boat party.
3. Extra Outfits
It cannot hurt to have an extra set of clothes to change into after you go for a swim.
The mood of the party might also change once the sun goes down, so going from casual to cocktail will be useful.
Keeping a backpack or large purse with you will help you store these essentials so that you are prepared for any situation. This will save you if the clothes that you hoped to wear all night get dirty or wet.
4. Water Accessories
A party boat brings out the kid in you, so why not embrace it? Bring along water accessories like inner tubes, snorkels, and beach balls.
You will be the life of the party when you bring extra to share with your friends.
These items also make playing in the water more exciting by adding some adventure. Explore the Key's reefs and wildlife either underwater or by tubing.
5. Cold Drinks
You definitely require water when out on a boat in the sun, but you can include some adult beverages as well.
This is especially true when you choose to take a booze cruise. Your host may supply some alcohol, but you can always bring your own concoctions.
Try to match the Florida theme of a tropical paradise with fruit-based cocktails and Malibu rum. Bring your own mixtures to play bartender or pack a cooler of your favorite pre-mixed drinks.
6. Snacks
Whether your party boat is catered or not, it is a good idea to bring some munchies with you. You may get hungry before food is served or crave something special once you've had a few drinks.
If you are hosting the party, you want to tell your guests if snacks or meals will be provided. Then pack a variety of cuisines or hire a caterer.
You also want to ensure that you have trash bags and a clean-up plan when serving food on the boat.
7. Towels
Bringing a towel or multiple ones on a day cruise helps you stay comfortable in more ways than one.
A towel keeps you and your surroundings dry, but it can also act as a coverup or a lounging mat. Spread it out on the deck of the boat or over a beach chair to stay cool and comfortable.
Be sure to lay your towel in the sun after each use to get it dry for after your next swim.
8. Playlists
When thinking about what to bring on a boat, you might not immediately grab your iPod. You might expect someone else to bring the music, but what if everyone is thinking the same thing?
Another problem is that you might not like the chosen music. Bringing your own playlist solves both problems.
You can share your music with the rest of the guests by connecting it to the boat's speakers. Or bring your earbuds or headphones in case you want to keep the music to yourself.
9. Sun Protection
Being on a boat all day will test your skin's immunity to the sun. If you are not used to being in the sun all day, then you could be roasted in no time.
Use various sun protection tactics like applying sunscreen, wearing a hat, or taking breaks from sun exposure. You can also use sunglasses to protect your eyes or a light-colored shirt or coverup for your body.
10. Positive Attitude
All the boat party accessories in the world will not help you if you are not in the right mood. So, prepare yourself before stepping foot on the boat.
Be sure to get a proper night's sleep before, have a good breakfast, and do some meditation to feel your best. If you are having personal issues, try to leave them onshore.
Think of your boat party time as a chance to break away from life's obstacles so that all you bring are your party necessities, including your positive attitude.
Remembering What to Bring to a Boat Party
After reading this list, you now know what to bring to a boat party. But, what if you forget something? Making a list is helpful. Also, having a friend to compare essentials, bring extra, or share their stuff with you will work well.
Ready to book your next party boat? Contact us today to discuss your options.