Whether you are enjoying a tropical vacation with your closest friends, or are down in the Keys for a family reunion, there are plenty of ways to have fun.
A tour we think you'll love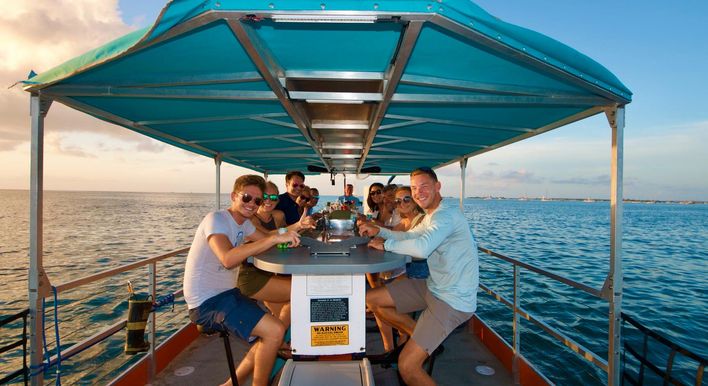 Private Day Cruises
From TBD
View tour
One of the best ways is to spend an evening on a party boat, laughing, hanging out, and enjoying a few drinks with the people who mean the most to you. But in Florida especially, there are a lot of options when choosing a boat tour experience.
Your boat tour provider is going to make or break your night, so make sure you choose wisely. There's no one size fits all, so we've put together this handy guide to help you find the right boat tour company for you. Keep reading for the key considerations in chartering a boat tour.
Boat Tour Location
First and foremost, your key consideration is the location of the tour. You want it to be beautiful, relaxing, and inspiring. Views of a sunset definitely help, as well as the occasional dolphin sighting.
It's very tough to beat a boat tour in the Florida Keys. But some parts of the Keys are better suited to a tour than others. Our boats are located in Key West, the most popular destination in the Keys.
As a result, you'll enjoy views of mangrove-lined shorelines, picture-perfect waters, and maybe even some wildlife.
Can They Accommodate Smaller Groups?
Many times you can only book a tour by paying for the entire boat. But if you are a smaller group, the cost can be prohibitive. That's because many companies prefer the simplicity of working with just one group per tour.
But at Key West Party Boats, we offer smaller groups the ability to have fun without breaking the bank. When comparing tour prices, you'll see that our public tours allow you to hop on board with other groups or individuals.
If you love saving money and making new friends, this is the perfect option for you, as you can pay by seat, not by boat.
Alternatively, you and your friends can also rent the entire boat if you'd prefer to be the only group on board. Our boats can accommodate up to 26 passengers comfortably. You won't feel like a packed sardine on our spacious boats.
Are Parties Encouraged?
There are many different types of tours for different groups of people. Some look for family-friendly tours that allow them to see local sights, glimpse wildlife, and learn a thing or two. These types of tours would generally discourage alcohol and loud music.
If you'd like your boat to feel like a party, and not a school field trip, then make sure to choose a tour operator that encourages a fun time. At Key West Party Boats, we specialize in fun, loud times on the water. Just check out our online customer reviews to see just how much fun you can have.
Bring anything that you want to eat or drink. Yes, that means alcohol. We have ice, coolers, and cups to make it as easy as possible to relax with your friends and family.
When you are in the Florida Keys, there's no better way to round out a fun day than with parties on boats, surrounded by the ocean and your best mates.
Will You Get Exercise?
Just because it's a party doesn't mean you can't get exercise. Our 26 passenger pedal boats give everyone the option of powering our boat with a bicycle-style pedal built into the seats.
But don't worry, pedaling is optional. We also have a motor for when the group gets tired.
What Time Is the Tour?
The time of day is key for a party boat. Setting sail just before sunset allows you and your friends the perfect way to round out a fun-filled day in the Keys. Especially since Key West is one of the best places to catch a sunset in the entire country.
You can enjoy a few drinks knowing that there aren't any other activities you need to enjoy afterward. Plus, there's no better way to watch the sunset over the ocean than out on a boat.
If a party boat were to leave earlier in the day, you may feel the need to drink less. But on our sunset cruise, you can be free to enjoy yourself.
What Comes Included?
When looking around for a boat tour, make sure to check out the amenities. You need to know what is included in the price, what is extra, and what you need to bring. Otherwise, if you aren't prepared, your party might fall flat.
All our tours are BYOB. Whatever you want to drink and snack on, bring it on board with you. Once onboard, we have everything you need. Ice, coolers, drink holders, and cups will be waiting for you.
And with our tours, you can wear whatever you want. Keep in mind, while it rarely gets cold, it can get windy, so bringing a sweater or light jacket isn't a bad idea.
Is There a Bathroom?
Let's face it; when you are drinking, you're going to have to go. It's just natural.
When choosing a boat tour operator, you can often find smaller boats that offer an intimate experience. But these generally don't have room for a bathroom.
If you'd like to ensure you and your friends are comfortable, choose a boat with a bathroom. Unless, of course, you'd like to jump in the water or have to hang overboard while answering the call of nature.
What About Electronics?
Sure, sometimes it's great to get out in nature away from technology. But other times, like when you are celebrating, keeping your devices charged up is essential.
Our boats are equipped with Bluetooth speakers and Spotify, allowing you to jam out to your favorite tunes all evening long. We also include USB charging ports.
So if you've spent the entire day photographing your adventures and draining your phone's battery, you can hop aboard knowing that you can charge your phone to capture even more memories.
Many boats do not have charging capabilities or the ability to choose their own music. If that's important to you, make sure to choose a boat, such as our cycle boats, that give you this option.
Choosing the Right Boat Tour Provider
Key West Party Boats specializes in fun times. We encourage parties and will do our best to provide a relaxed, uplifting environment for you and your friends.
As an experienced boat tour provider in the Florida Keys, we know how to keep the party rolling. From stunning wildlife to stops at our favorite seaside bars, there won't ever be a dull moment.
Ready to book your tour? You can contact us today with any questions you have, or find an available date on our calendar and lock in your party.