Harsh winter weather can have you dreaming of a much-needed (and much-deserved!) getaway. We're talking salty hair, luxury boats, and of course an open bar!
But did you know you do not have to go far to experience a relaxing, magical getaway like that? You could also go on a quick day trip right here in your own backyard!
A tour we think you'll love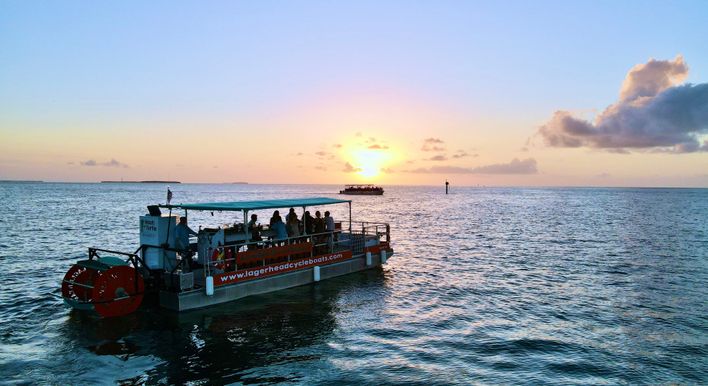 Private Sunset Cruise
From TBD
View tour
So, how do you do that you ask? You book a booze cruise! Here's everything you need to know about taking a Key West party boat ride today.
How to Book a Booze Cruise
The first step to going on a party boat is to learn how to book one! Otherwise, you're not going to get very far along on your adventure.
Luckily, learning how to book a party boat is pretty simple, regardless of whether you're celebrating a birthday on a boat, a bachelorette, or just catching up with friends!
To book a booze cruise, you'll first need to pick a destination. Key West is an ideal place because you'll catch gorgeous glimpses of the shoreline without having to venture far from home!
Next, it's time to choose your date. Try to keep a couple of dates in mind so that you can be a bit flexible.
From there, find a party boat company. Look for companies that have good reviews and that can work with your dates!
The Experience
Once you've found a company to book with, it's time to start partying! Let's take a look at what to expect aboard the boat.
The Boat
The boat you'll be on is a large pedal boat that can seat as many as 16 passengers. Ten of you can do the hard work while the other two relax and enjoy the cruise (and the booze)!
In addition to you and your guests, there will be two crew members aboard to make sure that everything goes smoothly.
The Drinks
The boat is entirely BYOB, which means you can save tons of money on regular bar rates. Whereas most boats will charge you a markup of 20 to 25%, our boat lets you avoid all that!
Plus, you can bring as much as you want. That way the party never stops aboard your booze cruise!
The Music
Another favorite feature of the booze cruise is the music. You'll have the chance to connect your phone to the boat's speakers via Bluetooth. That way you can play whatever jams you like!
And if you don't feel like putting together your own playlist? We've got options for that too. Just check out some of the many cruise playlists out there on Spotify, SoundCloud, or wherever else you listen to music.
The Captain
Finally, on board your boat you'll have a trusty pilot. The pilot will make sure that the onboard engine powers you around the bay even if you don't want to pedal.
Plus, your boat captain has interesting facts to share with you about the sights and sounds you see on your sailing trip!
Booze Cruise Essentials
So you've got the boat booked and the guests invited, now it's time to get the rest of the planning taken care of. Here's what you'll need to bring:
A small first aid kit
Seasickness pills (just in case)
As much booze as you want!
Some fun party playlists
Comfortable clothes
Most of all, make sure to bring a good attitude! The more excited you are about the trip the more fun you'll have.
What to Wear to a Booze Cruise
You've got the drinks in the cooler and your friends gathered. The hour is fast approaching for your booze cruise.
But wait! What in the world do you wear for your boozy voyage?
Well, it really depends on the occasion! You can wear whatever you like on a booze cruise.
However, we recommend clothes that you'll be comfortable in. You want to be able to move around and party without anything pinching you in awkward places.
How Much Does a Booze Cruise Cost?
In order to be fully prepared for your booze cruise, you'll need to know exactly what to expect to pay. Luckily, booze cruises are pretty affordable!
The exact amount you'll pay depends on the package, the number of people, and the add-ons that you choose for your particular booze cruise.
However, packages usually start at around $700 per voyage.
Boozy Boater's Tip: Wanting to get an even lower cost? Check out our late-night sunset cruises that start at just $45 per person!
Benefits of Booking a Booze Cruise
When you book a booze cruise, you'll get to take advantage of tons of fun benefits. For instance, you'll:
Have the opportunity to customize the decorations
Save money on expensive drinks that you would buy if you went bar hopping
Bond with your friends
Get on the water close to home
Try a unique experience that you won't find anywhere else!
With all these benefits of booking a booze cruise, it's no wonder that they're so popular! And, it's no wonder that bookings fill up fast.
Book a Booze Cruise Today
Does all this have you itching to climb aboard a booze cruise of your own? We don't blame you! Key West booze cruises are an amazing way to celebrate with friends and enjoy a night you won't forget.
So, what are you waiting for? Book your own booze cruise in Key West and enjoy a night of fun today!