There are about 2,132,853 new marriages in the US each year. Are you planning on getting married in 2021? Consider hosting your big day in the Key West!
A tour we think you'll love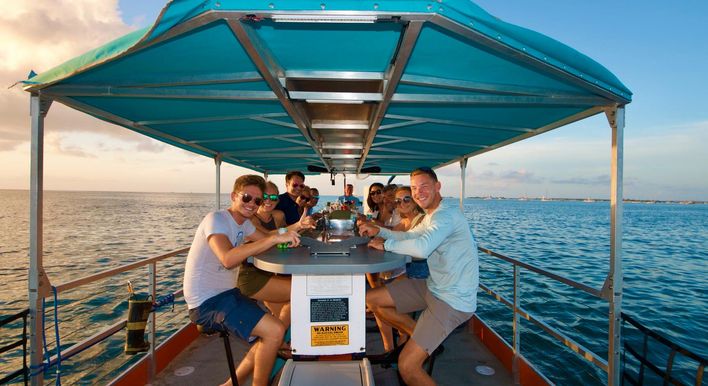 Private Day Cruises
From TBD
View tour
A Key West wedding will ensure your guests have a reason to discuss your big day for years. Destination weddings are always memorable. Beyond that, you can throw your wedding in a stunning location.
Not sure where to start? Here are the eight tips for planning the perfect Key West wedding. With these tips, you can make planning stress-free.
Get going with these eight tips towards your "I Do's" today!
1. Set Your Budget
The average wedding costs about $33,900. The average cost of a Key West wedding, on the other hand, is about $28,000 for 100 guests. Before planning your big day, give your budget some thought.
How much do you want to spend on your big day? Do you already have money saved? Do you plan on asking your parents for help?
Take the time to ask your spouse-to-be about your financial situation. This is a great opportunity to get practice as a married couple! You'll need to discuss your finances in the years to come.
You don't want to start planning your wedding without a budget in mind. Otherwise, you'll go overboard before you realize it.
Once you set your overall budget, break it into categories (food/catering, the hotel, travel, the honeymoon, etc.). Breaking your budget into these categories will help you stay organized.
Budget Tips
Are you trying to cut costs? There are a few ways you can plan for the perfect wedding without financial stress.
Start by creating a dedicated wedding fund. As you plan your dream wedding, keep adding money to the account. You can gain a little interest on this nest egg over time.
Try to save as much as you can in the months leading to your wedding.
Next, consider your priorities. Planning a wedding involves a lot of expenses, including your:
Wedding planner
Wedding venue
Photographer
Caterer
Bake baker
Reception rentals
Hairstylist and makeup artist
DJ/band
Officiant
Florist
Rings
Dress and tuxedo
Honeymoon
Determine which items are a priority. Can you outsource some of these responsibilities to friends or family members? For example, maybe you can have a friend do your hair and makeup.
Otherwise, look for wedding bargains.
For the items you prioritize, ask what's including in every package. Have everything in writing. That way, you can handle any disputes.
Take the time to question each vendor to get more information about their products and services. Try to haggle if you can. Some vendors will offer a discount price.
They might even throw in something for free.
2. Time It Right
Timing is everything! Take the time to choose the date for your Key West wedding as soon as possible. You might want to determine your date based on when your vendors are all available.
Keep your guests in mind, too. Can they all take off work to make it to your destination wedding? Look for any calendar conflicts you'll need to consider.
Many couples plan the date around their venue. As you explore different Key West wedding locations, make a note of the dates available. What works best?
3. Gather Inspiration
This is the fun part. Start gathering inspiration for your big day! You can consult online guides, magazines, friends, and family members.
Are you working with a wedding planner? Consider choosing a wedding planner in Key West. They'll know the best local vendors and Key West wedding locations.
Consider planning a few local activities for your guests to enjoy the week of your wedding. For example, you can suggest:
Kayaking around Island T'ing
An eco-tour
Sunset sailing with a full bar
Parasailing and jet skiing
Snorkeling in Key West's reefs
Sportfishing
Taking a tour of Hemingway's House
Biking the perimeter of the Key
Taking a seafood-lovers tour
A pub crawl or distillery tour
Think about your guests when planning these events.
4. Choose the Location
Are you planning an indoor or outdoor wedding? Take the time to explore different Key West wedding locations.
Which venue suits your wedding plans? Are you following a theme? A theme could inform your choice, too.
If you're planning an outdoor wedding, consider everyone's comfort. Have a plan in case the weather is too hot (or in case it rains).
If you're planning a wedding on the beach, make sure you have the right permit, too. Rent outdoor bathrooms as well.
5. Draft the Guest List
Start planning your guest list! Make sure you don't exceed your budget when determining how many guests to invite.
Make this an experience for your guests, too. For example, you can:
Send them a fun teaser email hinting at the location
Providing your guests with a packing checklist
Arranging their transportation
Creating an emergency kit or welcome gift
Giving them local tour books
Hosting meet-ups
What about a Key West party boat tour of the island? Help everyone get excited about your Key West destination wedding!
6. Create a Site and Registry
Consider creating a website for your wedding. Then, brand your wedding to match your Key West theme.
You can use your website to organize events and keep everyone on the same page. Send your guest list fun, exciting news updates as you plan your wedding.
Link to your registry, too.
7. Book Your Vendors
Don't forget to book your vendors in an advance! Take time to create your menu based on location flavors. Your caterer can help you find delicious, Key West dishes.
Consider creating customized cocktails, too!
Don't forget to grab your marriage license before the big day.
8. Get Ready
Are you ready for your big day? Go over your checklist. Make sure you've planned the honeymoon at least four months in advance.
Grab your rings and attire ahead of time, too. You might need time for adjustments as well.
Take the time to finalize everything with your vendors the day before.
Then, get ready to walk down the aisle!
Ready to Walk the Aisle: 8 Tips for Planning the Perfect Key West Wedding
It's almost here! With these Key West wedding planning tips, you can plan for the perfect day. Get ready to walk down the aisle and say your "I Do's" with these tips today.
Thinking about planning a party boat tour of the island? You came to the right place.
Explore our FAQs before booking your party boat today.