The Florida Keys are a fascinating destination for both local and international travelers, and home to the only living coral barrier reef in the US. This amazing ecosystem supports over 6,000 marine species and is a top attraction for snorkelers.
A tour we think you'll love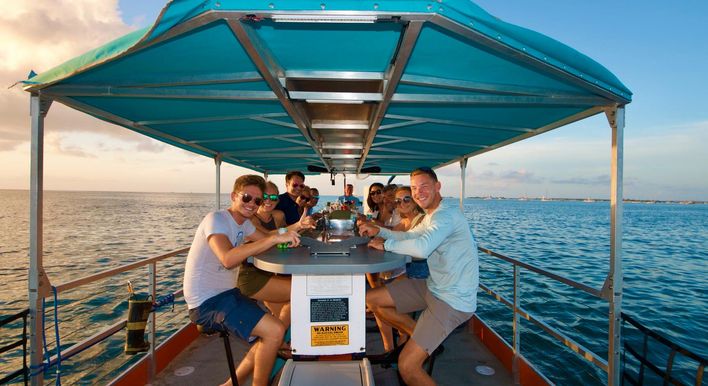 Private Day Cruises
From TBD
View tour
There's more to Key West than incredible underwater adventures though. Check out these Key West travel tips to make the most of your vacation in this top Florida destination.
1. Fly or Drive?
Although flying into Key West is a convenient way to get there, it can get crowded at times. This small airport regularly welcomes over 800,000 visitors every year.
The good news is that Key West Airport is about to undergo an $80 million refurb, which should provide more space and creature comforts for those arriving here.
One of the best tips for traveling to Key West is to take a road trip to your destination.
The drive along the Overseas Highway is incredibly scenic. The views glitter with sunshine dancing on the vast waters on either side of you as you traverse the 140 bridges along the way.
2. Choosing Your Accommodation
Hotels are expensive in Key West. Rather opt for cost-saving bed and breakfast accommodation for your stay.
Even better, rent a large house and split the cost with friends. You'll pay less for your accommodation plus you can enjoy extra savings when it comes to mealtimes by cooking your own food.
3. Key West Travel Tips for Packing
Plan to travel light when packing for your Key West Florida vacation. You won't need any fancy outfits in this laid-back part of the world.
Rather, use your valuable packing space for extra reef-safe sunscreen, snorkeling gear, water shoes, and quick-dry clothing. A couple of bathing suits are essential, as well as a hat, beach towels, and sunglasses.
4. Walk and Bike Wherever You Go
Key West's a small island and you'll find everything you want or need close to your accommodation. So, park your car and head out on foot or by bike during your visit.
Besides, the roads are super-busy, and you'll have to pay for street parking in exact change if you decide to travel in your car. Walking and biking are a far better way to experience everything Key West has to offer.
5. Don't Miss Out on the Local Cuisine
With all the money you'll save by choosing self-catering accommodation, you can afford to spoil yourself when you do dine out.
One of the best things to enjoy at restaurants around the island is Cuban cuisine. Thanks to its close location to this Caribbean neighbor, you'll find many authentic Cuban dishes to tempt your tastebuds here.
You must try the conch fritters, clam chowder, and paella packed with lobster tails.
Don't forget, Key West lays claim to inventing and perfecting key lime pie, so don't miss the chance to try it at its best during your visit.
6. Find the Best Beaches
Key West travel brochures often feature glorious sandy coasts and sunny skies. There are many fantastic beaches on Key West, but many of them are rocky at the shoreline.
So, prepare to scramble over a few stones before you reach the good bits. A sturdy pair of sandals does the trick for negotiating these obstacles.
Some of the best beaches in Key West Include:
Smathers Beach
Dog Beach
Rest Beach
Clarence S. Higgs Memorial Beach Park
Fort Zachary Taylor Beach
These top spots offer excellent opportunities for bathing, lazing on the shores, or snorkeling amongst fascinating creatures.
7. Get Out on the Water
Where there are beaches there's water, so make the most of it. Apart from snorkeling, you can also take part in jet-skiing, dolphin tours, and parasailing.
Don't miss the chance to enjoy one of the area's legendary sunset cruises, or tailor-make your own adventure with a custom private cruise.
8. Celebrate Often
There's plenty to celebrate in Key West, and Mallory Square hosts a sunset celebration every single day.
Every year, the Fantasy Fest is a noteworthy extravaganza, and you shouldn't miss the chance to join in the Goombay or Seafood Festivals either.
Key West is also the perfect destination for celebrations of your own like a bachelorette or bachelor party, wedding, or birthday.
9. Embrace the Quirkiness
Key West has many unique attributes. Chickens rule the roost across town and have right of way on the roads.
You'll encounter no shortage of photo opportunities in this part of the world, from manatee-shaped mailboxes to humorous tombstone inscriptions.
10. Take Advantage of Awesome Shopping
There are plenty of unique goods on sale around Key West too. You simply must buy an original Key West sponge and stock up on key lime supplies, including salsa and schnapps, while you're in town.
While you've got your shopping basket in hand, head over to the rum distillery in Mallory Square. You can take a behind-the-scenes tour, try a few free samples, and buy some of this heady brew to take home.
11. What to Do in Key West for Free
Key West offers lots of budget-friendly activities. These are some of the best ones you can enjoy for free:
Key West Botanical Garden
Beaches everywhere
Strolling Duval Street, Mallory Square, and Old Town
Florida Keys Eco-Discovery Center
Key West Wildlife Center
The Southernmost Point
Monroe County Animal Farm
You should have most of these on your bucket list even if you aren't traveling on a budget.
12. Plan for the Weather
Like most of Florida, Key West's prone to sudden, unannounced showers. In the summertime, the days start sunny, but you can expect a brief thunderstorm on most afternoons.
Dress accordingly and keep your umbrella handy.
13. Bring Your Friends
If you're intent on enjoying the best vacation in Florida, travel in a crowd. You'll want to share the wonderful experiences you come across in Key West with your friends.
Some of the best activities in Key West, like private boat tours, snorkeling, and after-dark activities are always better with your crew.
14. Enjoy Key West's Rich History
Key West has a colorful, endearing, and also conflict-ridden history. Get the back story at one of the many museums dotted around the island.
One of the best ones is Hemingway House, where you can find out more about this acclaimed author and see how he lived while working on his books. Hemingway stayed in Key West for eight years, completing three novels and several short stories during this time.
Start Planning Your Trip Today
One of the best Key West travel tips is to plan your stay well in advance. That way you can make the most of every moment by filling your itinerary with sights and activities.
Get started by booking your exclusive party boat experience in Key West.