Key West is famous for its nightlife. Known for having a scene like no other, Key West is truly a gem of an island serving you up gorgeous weather, stunning beaches, of course, endless fun. People from all walks of life visit this island of paradise year-round to indulge in the city's delight; immersing themselves in the island's culture, booze, and then some.
A tour we think you'll love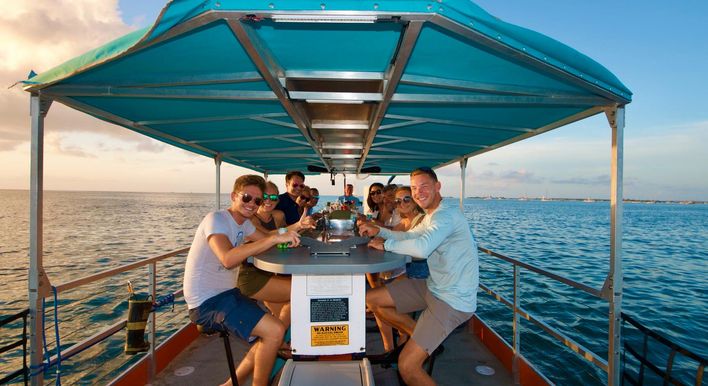 Public Day Cruises
From TBD
View tour
Finding a party in Key West is the easy part, however, with so many options where do you even begin? Well, you're in luck! Here is our simple guide to the best scenes Key West has to offer.
Where To Party In Key West
If you want to party in Key West, where should you go? Here are the best spots.
On The Pier: Sunset Pier
Sunset Pier is a classic bar in Key West located on the pier at the Ocean Key Resort and Spa. Treat yourself to some of the most exciting drinks and delicious food while taking in the gorgeous weather and oceanside breeze. If you could only go to one bar on the pier, Sunset Pier is the bar to visit!
Live Entertainment: Sloppy Joe's
After soaking up some sun on the pier, head over to Duval Street and pop in at Sloppy Joe's, the most famous bar Key West has to offer! Whatever music you're in the mood for, you'll get your fill and some great booze at that. Sloppy Joe's never disappoints.
Happy Hour: Lazy Gecko
The evening has only just begun! Sloppy Joe's had some amazing tunes, but now it's time to drink! Happy hour anyone? Lazy Gecko is where to get your second round or third, no one is counting! Grab yourself a 2-for-1 at Lazy Gecko from 5 to 8 pm, the perfect pre-game or "game" for your evening's festivities.
Dive Bar: Chart Room At Pier House
The night's not over just yet, where to next? Dive bars, of course. And Chart Room at Pier House is the ultimate dive bar in all of Key West! Known as the hidden gem of the island, Chart Room at Pier House cannot be missed.
Grab A Bite: Fisherman's Cafe
Weh, what a night! Is anyone hungry? Don't settle for just any late-night bite, Fisherman's Cafe is where you'll satisfy that craving. This spot has the best local seafood and sandwiches you'll find yourself dreaming of post-vacation.
The Best Parties In Key West Are On A Party Boat
That's our list! We imagine you'll be soon perusing the city's piers and boardwalks in search of the spectacular festivities the city is famous for, these spots can't be missed!
However, a party in Key West is not complete without a party boat! You get Key West's gorgeous beach at your fingertips, your own private party right above the sea, and when you're ready, the nightlife on the pier and Duval Street.
Wanna know more? We got you covered! Key West Party Boats is the go-to for party boats. Contact us and we'll get you sorted from there!