Do you want to experience all that Key West has to offer? Key West is known as the tropical paradise that writer Ernest Hemingway called his home for eight years. However, if you stick to the streets, you're missing out on a large part of what makes Key West special.
A tour we think you'll love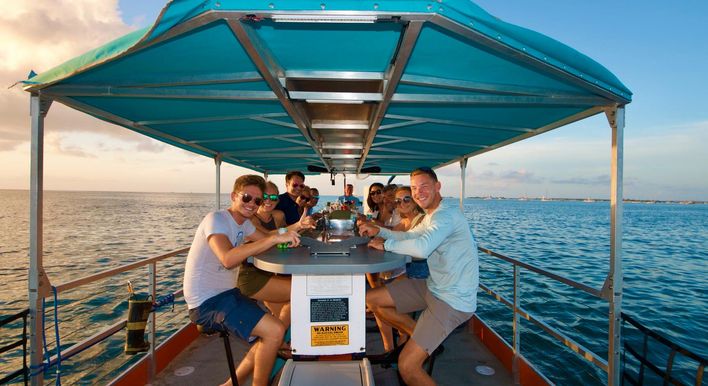 Private Day Cruises
From TBD
View tour
This beach town is all about the sun, sand, and water. But if you're not a fan of the beach but still want to enjoy the water, why not head out on the open waves? Starting out at an affordable price point, there are even more reasons why a boat tour may be the best decision for you.
Read on to learn our top seven reasons why Key West boat tours should be on the top of your list today!
1. Affordable
Many people skip the boat tour because they believe it will be an expensive addition to their trip. However, you can enjoy an inexpensive boat tour if you decide to take a public tour with other groups of people.
Prices can be as low as $45 per person with the option to bring your own beer, drinks, and snacks. This means you'll be able to enjoy music, food, and the bright blue ocean without breaking the bank.
With rides as long as two hours, it can be a stimulating part of your day without becoming exhausting.
2. Private Tours for Your Bachelorette Party
If you have a party greater than six people and want to enjoy the boat all to yourselves, the boat tour can be your own private booze cruise for under a thousand dollars.
One of the best parts about holding events on a private boat is that no pedaling is required. You can relax and enjoy the sights and sounds of nature without breaking a sweat.
It's also important to keep in mind that a variety of events can be held on a boat tour besides a bachelorette party. Here are just a few:
Bachelor parties
Company outings
Birthday parties
Anniversaries
A party boat is great for anyone that enjoys being out on the open water and with people they love.
3. Enjoy a Sunset Cruise
You'll also want to remember that your boat cruise isn't just for noisy parties. You may want a calm, quiet ride while you enjoy the sunset. Sunset cruises are timed perfectly so that you can see the way the sun looks as it sets over the water.
You'll also be able to enjoy the spectacular, colorful sunsets that Florida is known for. Keep in mind that a sunset cruise is perfect for people who are on a honeymoon, couples, vacationers, families, and more.
This romantic boat tour is even better if you enjoy it with some wine and snacks that you can bring on board.
4. Discover Nature
One of the best parts about a Key West boat cruise is the fact that you'll be able to spot animals that you may not be able to in your hometown. Key West is known for a wide variety of marine life, as habitats protect over 40 different animal species.
Here are a few of the animals that you may spot on the boat:
Dolphins
Manatees
Jellyfish
Sea turtles
Crawfish
And more
Remember that you shouldn't feed any of the animals or attempt to touch them.
5. Meet New People
Many of us are used to living in our own bubbles. One of the best parts about going on vacation is meeting people from all across the world.
If you decide to book a public boat tour, you'll be able to enjoy a more affordable price. However, you'll also have an enjoyable time with people with at least one similarity to you–they enjoy being out on the ocean and enjoy the sights and sounds of Key West!
Being an expert at small talk isn't necessary if you're all viewing dolphins, listening to good music, and sharing a beer.
6. Safe in the Water
Another benefit to booking a boat tour is the fact that you don't have to worry about being the navigator. Through an affordable investment, you're ensuring that you and your family are safe with an experienced captain at the helm.
They'll take you through familiar routes with all the best sights. They'll also make sure to monitor the weather in advance so that you can be assured that you'll be totally safe once you're out on the water.
7. Irreplaceable Memories
If you live in a landlocked state, we recommend bringing a camera or your smartphone on board so that you can take photos that will last you a lifetime. From dolphins leaping out of the water to a gorgeous sunset, there is plenty to document and memorialize.
Even better, you can take great portraits of yourself and your loved one or with your family. A sunset in the background or the bright blue ocean makes a perfect setting for social media.
Plan Your Key West Boat Tours Today
From enjoying a romantic evening to partying with your best friends, there's something for everyone when it comes to Key West boat tours. One of the best parts about these tours is that they're two hours long.
This means that it's plenty of time to enjoy a snack and some beers and the sights. However, the tour won't take up your entire day–you'll have plenty of options for entertainment or dining once you're back on dry land.
We recommend booking your tour in advance so that you can be assured your date and time aren't taken. View our calendar today to get started!